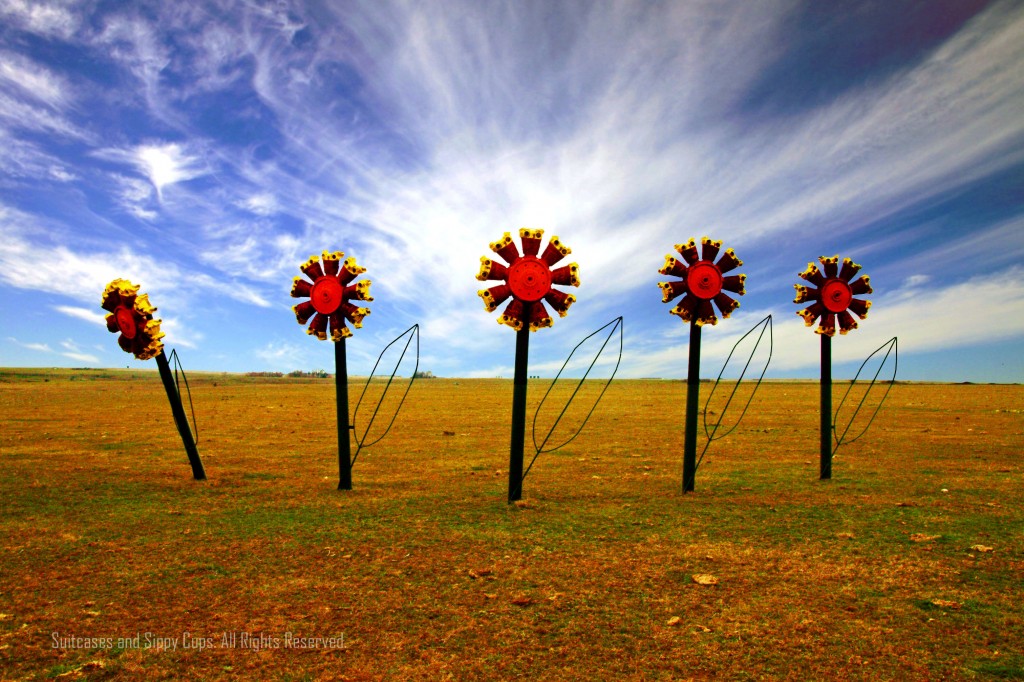 The wild, unruly fields of Texas.  When settlers first came to this land, they found an unforgiving, stubborn landscape, and with an equaled stubbornness, they tamed the land.  Trumpeting the determination of the early Texans, those angry fields produced an abundance of wealth and prosperity as cotton and oil sprang forth. But there is something else growing up in the fields of Texas that has nothing to do with wealth or prosperity or even good sense.  The fields of the Running N Ranch in rural Saint Jo are growing art.*
         *read with grit and drawl ala Clint Eastwood.  Try it, it's fun!
It began as a way for rancher Earl Nunneley to spend his retirement, but when his installations began to draw a cult like following, especially among motorcyclists, he began to think more about his audience.  Using telephone poles and junkyard finds as big boy's tinker toys, he has constructed a menagerie of works that have been hailed by critics in the genre of folk art, but are considered by neighbors to be just plain crazy.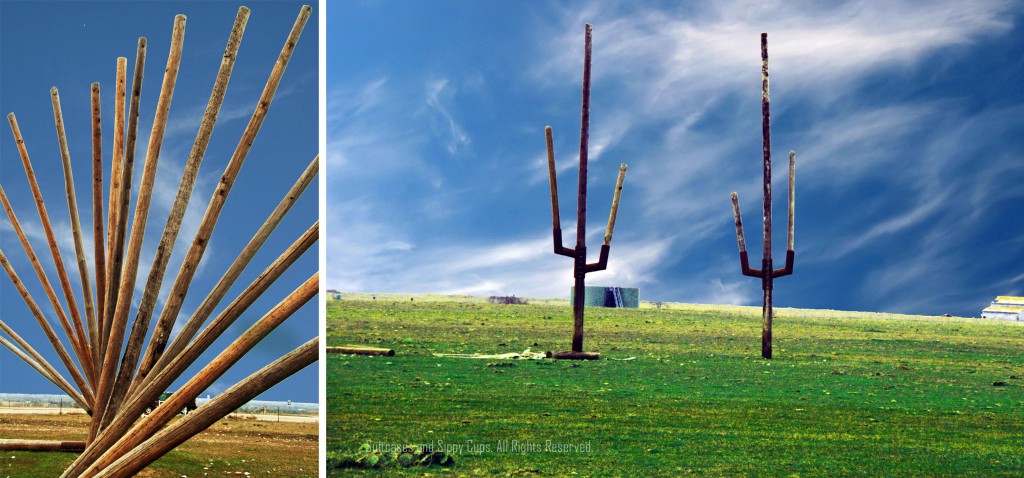 As you step through the cattle gate and over the cow patties, you'll see the most prominent piece in the collection.  Fourteen telephone poles jut dramatically out of the earth in a fan position, creating a single shadow when viewed on the vernal and autumnal equinoxes.   Just beyond that, the expansive view across the field is broken with the protrusion of a giant pair of cacti and what could be the world's largest weather vane.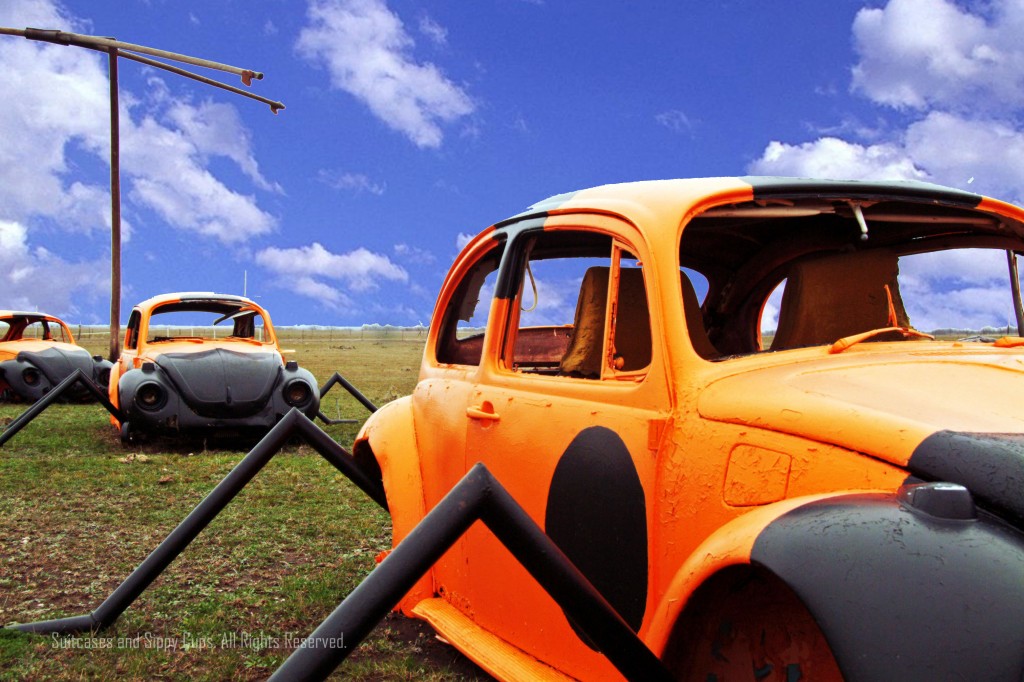 Playfully scattered across the pasture are a quintet of VW bugs that are clearly way past their prime, but have been given new life with a coat of ladybug paint and the addition of legs and antennae.   Blooming right alongside the whimsical bugs are a row of giant sunflowers composed of airplane rotary engines.  A new coat of paint each year keeps them looking fresh.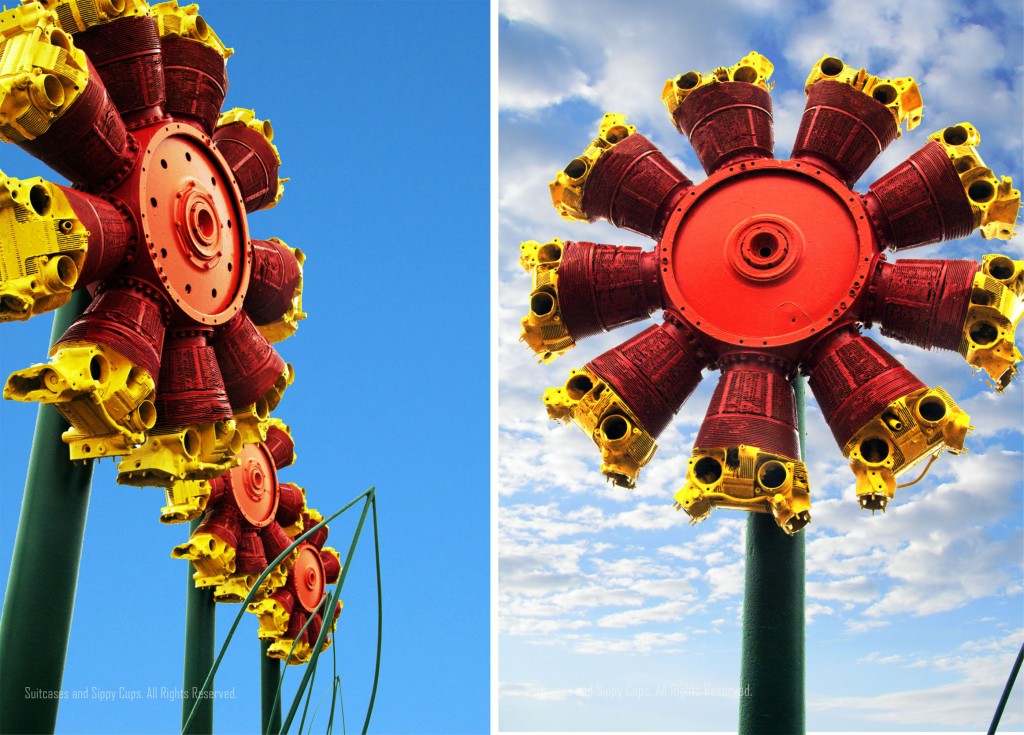 Whether the collection is an applauded contribution to the world of folk art or the creations of a retiree an air bubble off plumb,well, that is in the eye of the beholder.   Standing in the field gazing upward though, you can't deny the je ne sais quoi that comes over you.  Perhaps Earl's brother said it best.  "It's just one of them things.  He wanted to do it, and he done it."
~To visit Running N Ranch, take Hwy 82 from Gainesville towards Saint Jo.  Turn south on FM 677 and drive about 1 mile toward the middle of nowhere.  If you see the house with the three legged dog on the porch, you've gone too far.  You'll see Earl's art from the road and you can find parking where Earl moved his fence back for his fans.  Just let yourself in the gate, but be sure to close it behind you so you don't let the cows out.~
Check out more photos at Photo Friday at Delicious Baby.