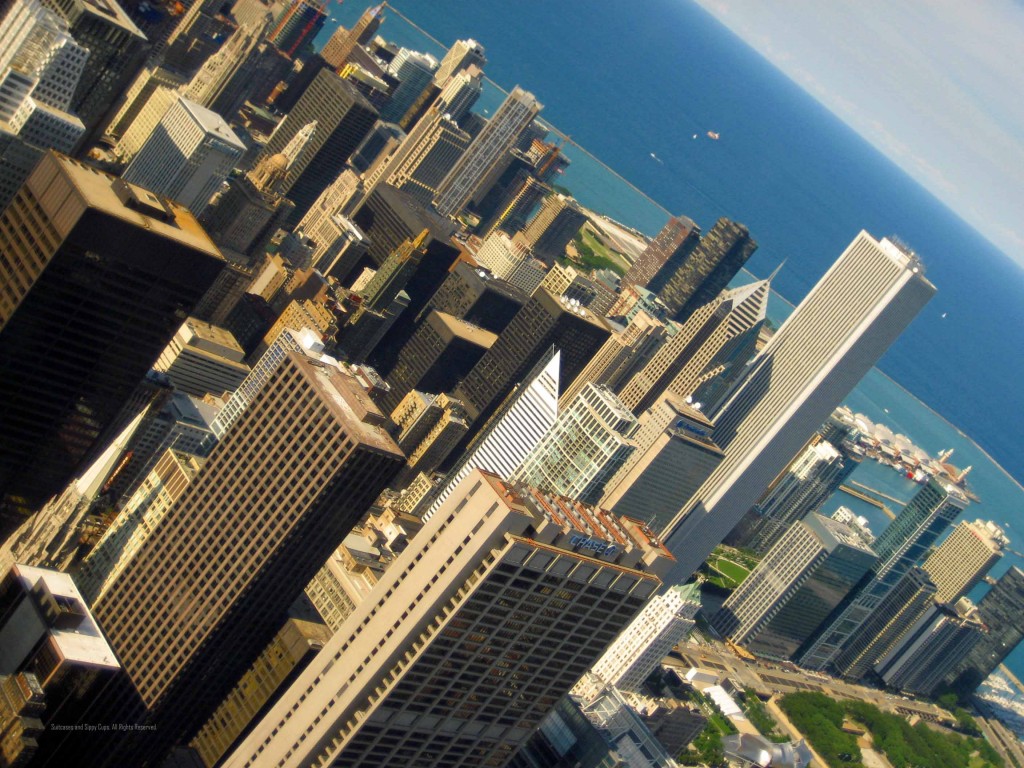 It seems that every great city has an equally great quintessential food that goes right along with it. Philadelphia has the cheesesteak . Boston has baked beans. Chicago has pizza. And hot dogs. And cheesecake. After several visits to Chicago, we decided to go on a quest to hunt down the best of this culinary trio. Our goal was to find the places that the locals loved and sent their friends to try, not just the #1 pick in any random guidebook.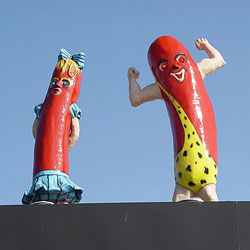 First up: Hot Dogs.
We had tried out Portillos before and been reasonably happy with the dogs, so we wanted to take our quest a step further. Quickly breaking our own rule, we actually first learned about Superdawg from 1000 Things to See Before You Die. This book is to me what the trashy beach novel is to other women, providing me with an almost hedonistic pleasure and feeding my obsession with lists. If it's in the book, it's good enough for me. But locals also gave this place rave reviews. One even said, "Superdawg is a Chicago institution. This is a temple to meat in tubular form." Sounds promising!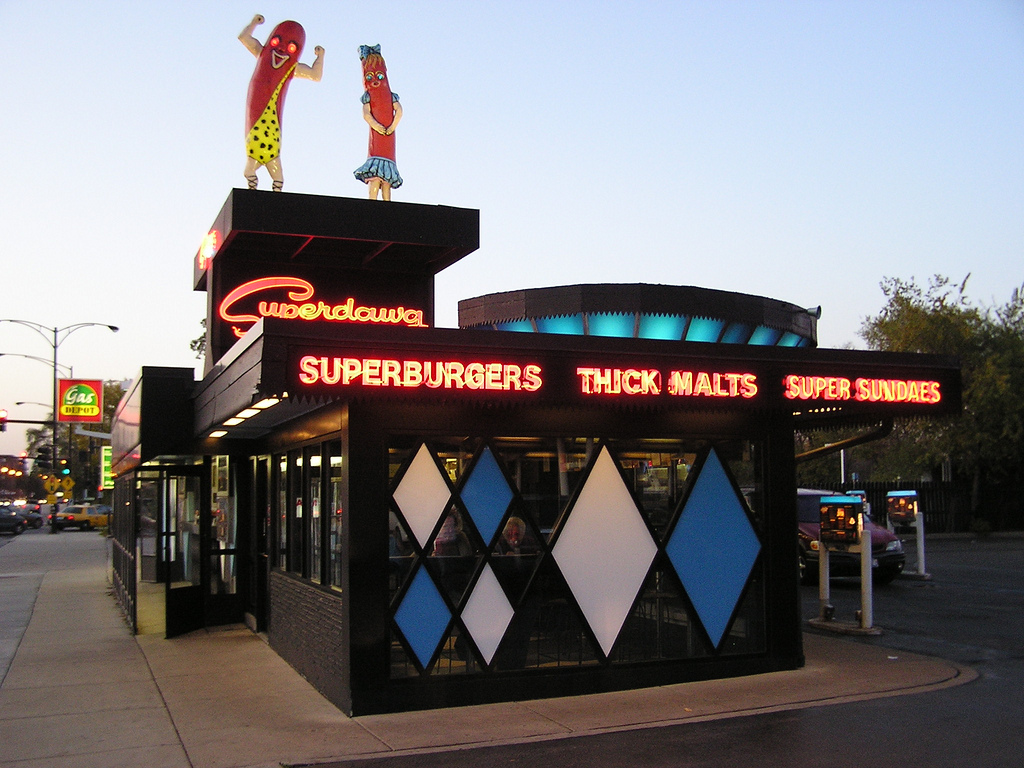 Superdawg is a classic family drive-in that opened in 1948, so we were digging the retro vibe from the minute we pulled our car into the slot. Although it seemed like the thing to do to wait for our food to be perched on a tray at our window, we actually chose to dine inside the diamond bedecked building. This gave us a unique view of the assembly line of workers busily assembling the dogs and frying up the world famous fries we were encouraged not to miss. We were also able to read the hundreds of newspaper and magazine articles that sang the praises of Superdawg hanging on every spare space of wall. Pictures of famous Superdawg diners, including President Obama, were also spackled across the dining area, heightening the feeling that we were awaiting greatness.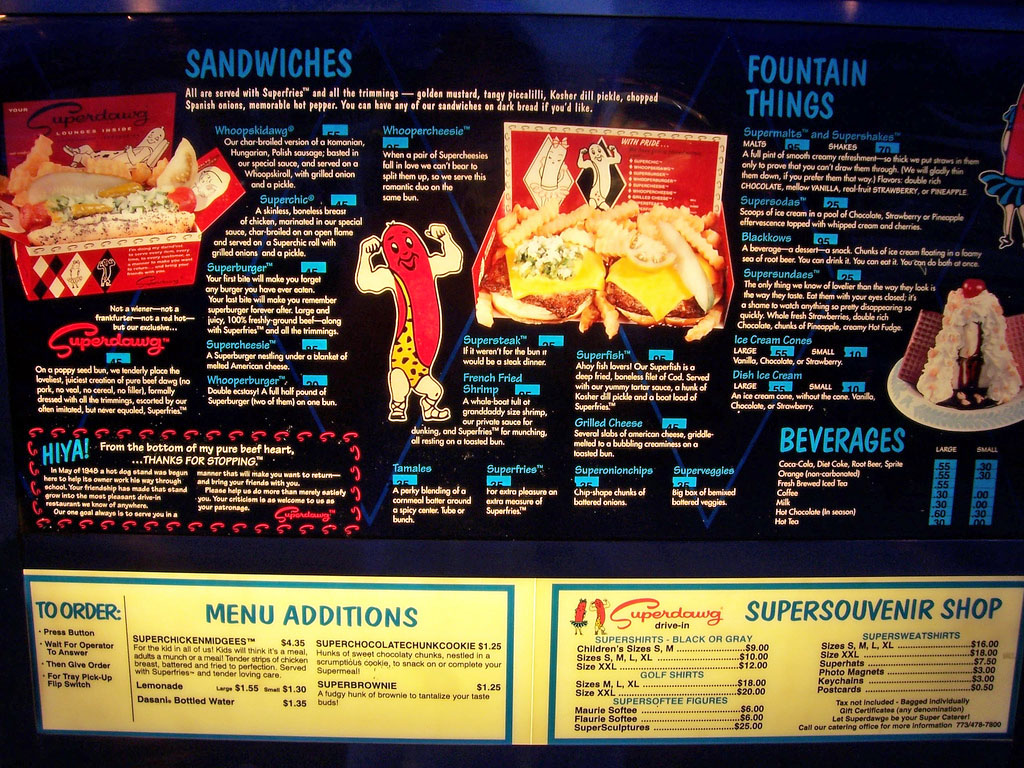 Even the menu clearly states the uniqueness of the offerings as it declares, "Not a wiener – not a frankfurter – not a red hot – but our exclusive… Superdawg™" A hot dog with a trademark has to be something special! The presentation certainly didn't disappoint. The all beef hot dog is served on a poppy seed bun and dressed with all the trimmings- golden mustard, tangy piccalilli, kosher dill pickle, chopped Spanish onions, and a hot pepper. All this, along with the highly touted crinkle cut Superfries and the signature green tomato are tucked neatly into a red and white, oh-so-cool retro box.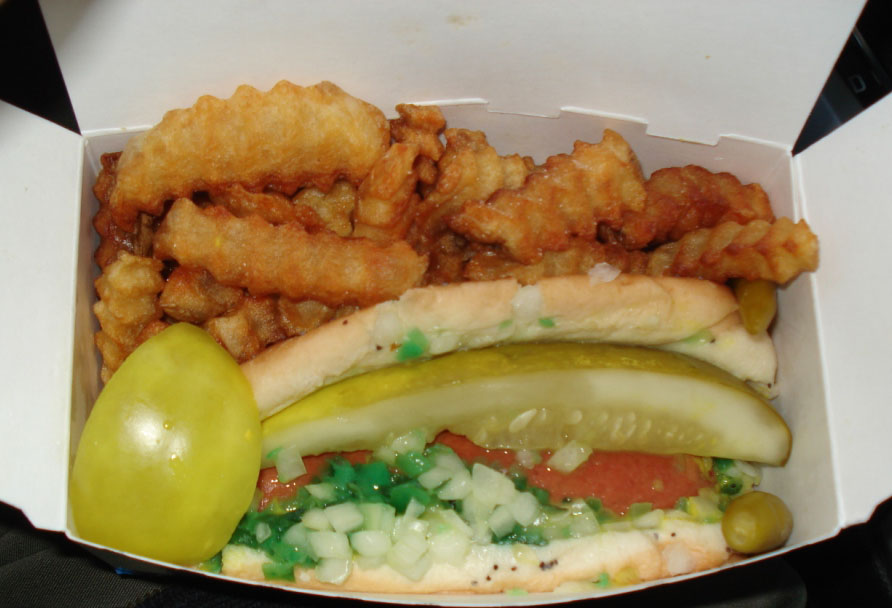 The verdict? I'd give it a solid meh. Maybe it's one of those foods that, if you grow up with it, tastes like summertime and freedom and everything that is good and right in the world. As we were eating, there was a line of local patrons hungrily picking up their take out, but for us outsiders it just didn't live up to the hype. All of us left behind food on our plates, a rarity for my bottomless pit boys who could practically live on hot dogs and French fries. If I had it to do over again, I would have eaten dinner somewhere else (saving myself the $40 I spent on fast food and the indigestion) and then cruised into Superdawgs for the cool vibe and a milkshake. Of course, we couldn't skip it entirely, even if it wasn't great. It is, after all, on the list.
Next Up: The Great Pizza War of 2011.