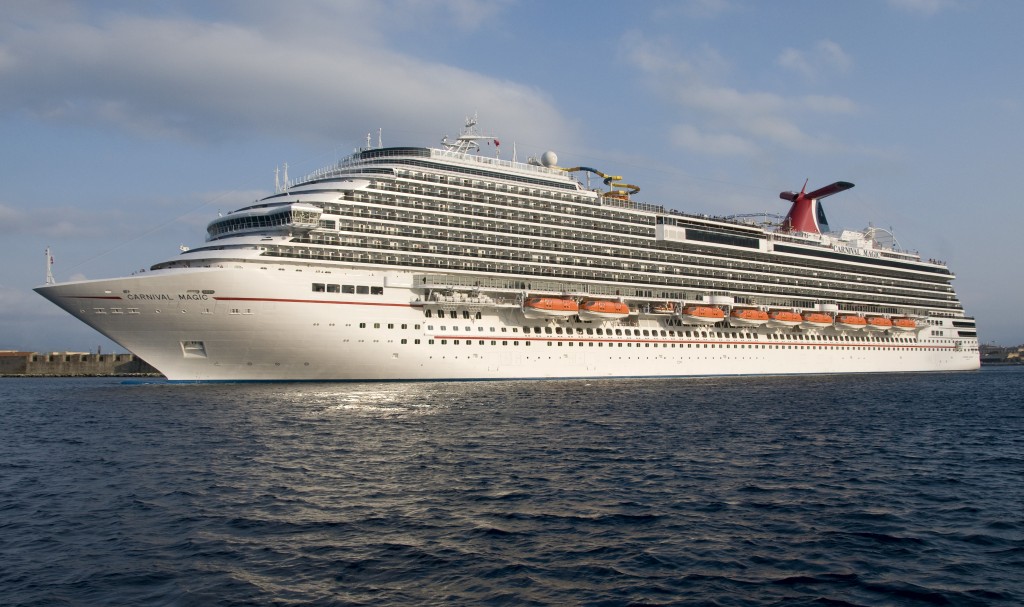 Bon Voyage! The energy on board is building as the Carnival Magic prepares for its inaugural cruise from its new home port in Galveston, TX. I got a sneak peak of the ship last night as Carnival hosted a pre launch party and I am waiting for my family to join me for a six day Caribbean cruise. As I have scoped out the ship, I have been on the lookout for things that will be fun for the kids and the Carnival Magic does not disappoint. Six days just won't be enough to enjoy everything that the Magic has to offer. So, what will be doing again and again?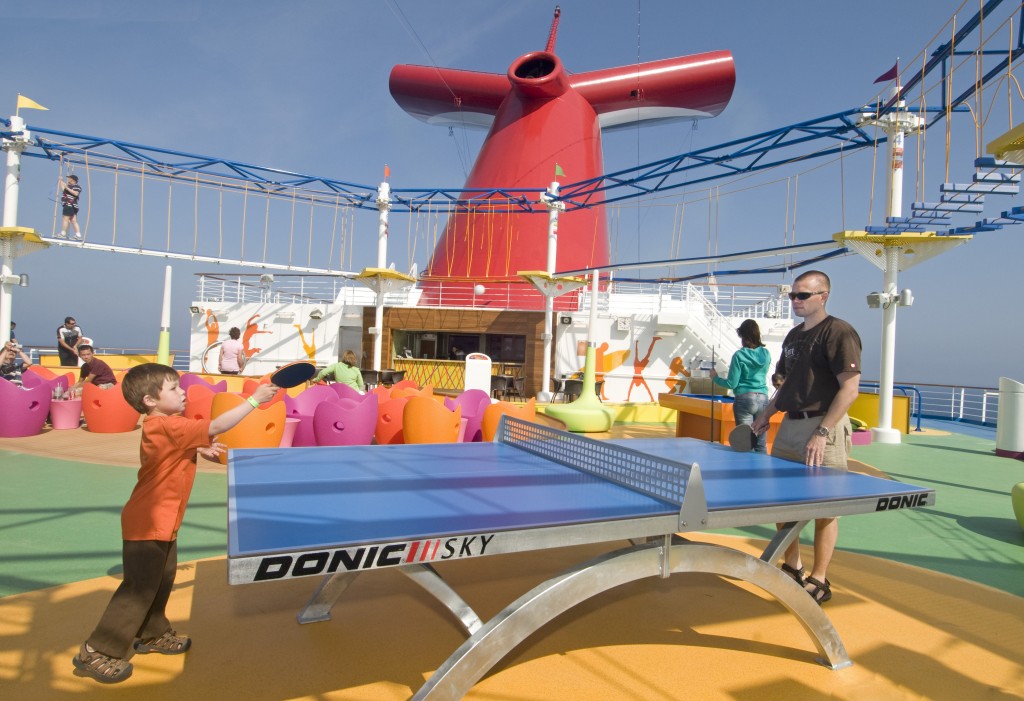 1. Sports Square: This recreational area has every sports oriented activity imaginable-Volleyball, Basketball, Foosball, Ping-Pong. If sports are more of a spectator sport in your world, you can relax and watch the big game on the big screen. Even if you have a kid who doesn't love sports, you will find giant sized chess set is sure to be a winner. I love that the entire sports square (including the sky course and mini golf) are expansive enough that each of my kids can find something fun to do, but located in a compact enough area that I can sit back and relax with one eye on the kids and the other on the ocean.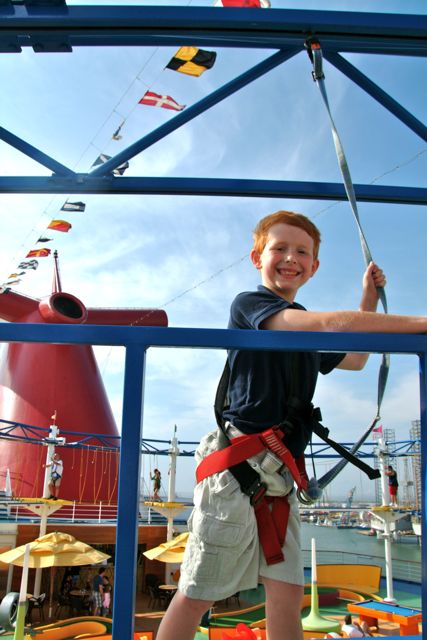 2. Sky Course: The first ever ropes course at sea soars above the colorful Sports Square, giving you amazing views and a great adrenaline rush, if you dare. At first glance, the course looks like a piece of cake, but the windy conditions add an extra knee shaking challenge. Choose from two courses with varying difficulties and get ready for a thrill.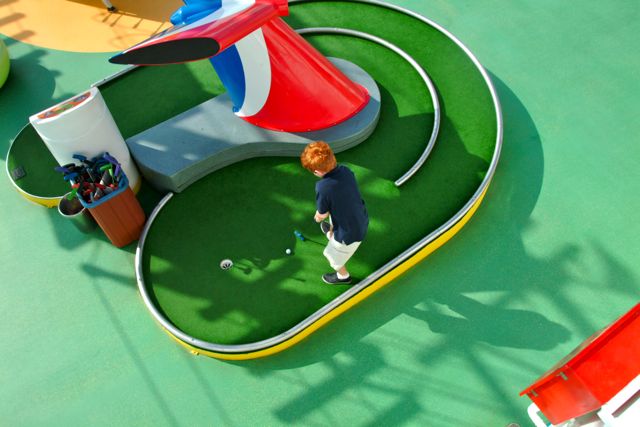 3. Mini Golf: Two levels, nine holes, tons of fun. A 1/8th mile jogging track surrounds the area, so parents can work off a few calories from dinner while the kids play, or join in the fun. Just be sure to take in the spectacular Caribbean views between turns.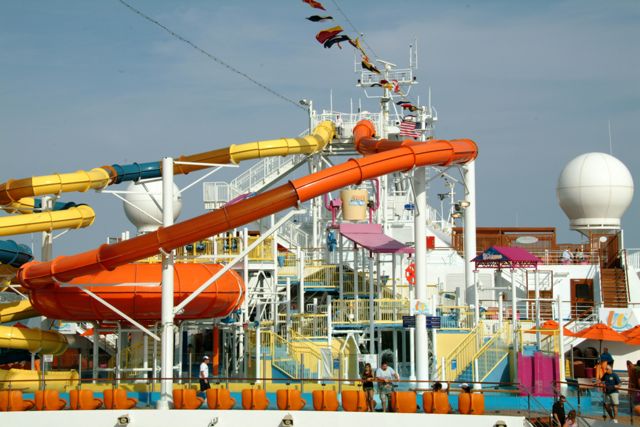 4. Water Works Aqua Park: A splash-tastic water park that includes two exhilarating water slides and numerous squirting, splashing features for the little kids, as well. The centerpiece of the park is a 500 hundred gallon water bucket. Below kids twitter with the expectation of the next big splash that will leave them drenched from head to toe.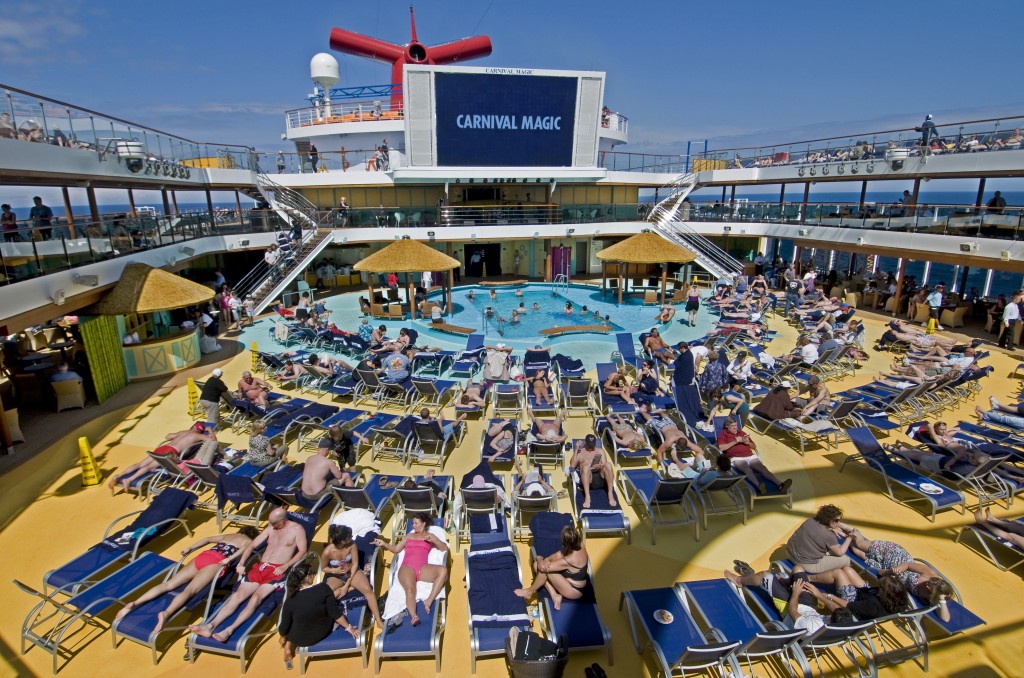 5. Seaside Theatre: A 270 square foot screen with viewing from the pool or from the ultra comfy lounge chairs around the deck. Family friendly films play throughout the evening. What could be better than swimming and a movie under the stars?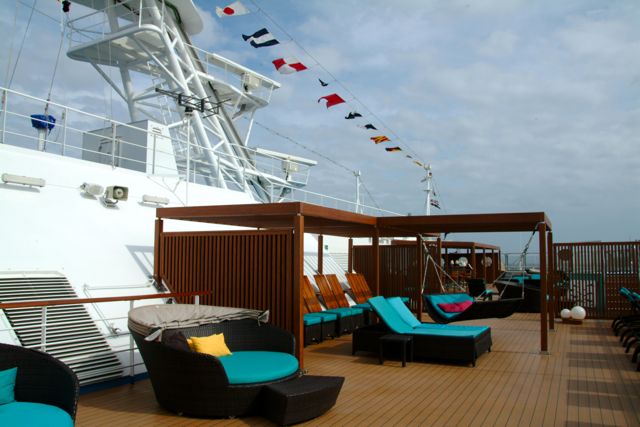 6. Serenity Deck: If you are looking for the best views on the ship, they are in the hammocks, chaise lounges and two whirlpools on the adults only serenity deck. Escape for a little grownup "me" time and enjoy the silence. You'll have to come out eventually, but soak it in while it lasts.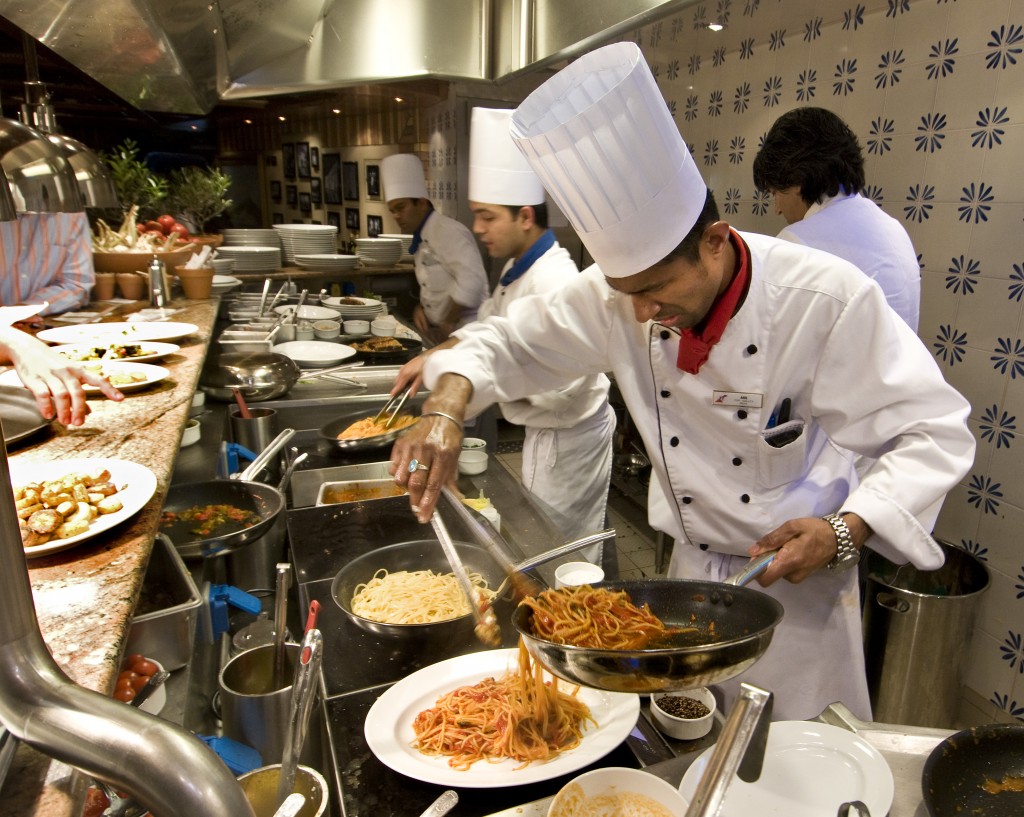 7. Cucina del Capitano: If you have a kid who thinks pasta is the only food group in the food pyramid, you will be thrilled to find this restaurant that plays homage to the Italian homeland of the Captains of the Carnival line. For a small extra charge, guests can dine on homemade pastas in a relaxed and cozy atmosphere. At lunch the area is used as a made-to-order pasta bar, so you are sure to find a meal to please your pastasaurus.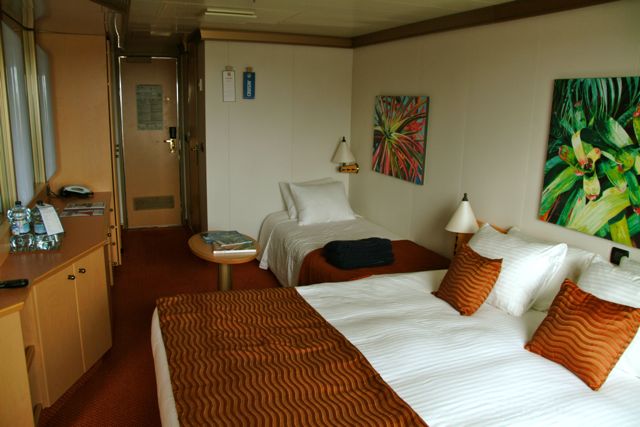 8. Family Friendly Staterooms: The staterooms are perfectly designed with more than enough storage space and many configurations that will work for even larger families. Adjoining rooms that can sleep up to three are a big draw for families. The ship even offers two bathroom/five berth rooms so the whole family can share one space.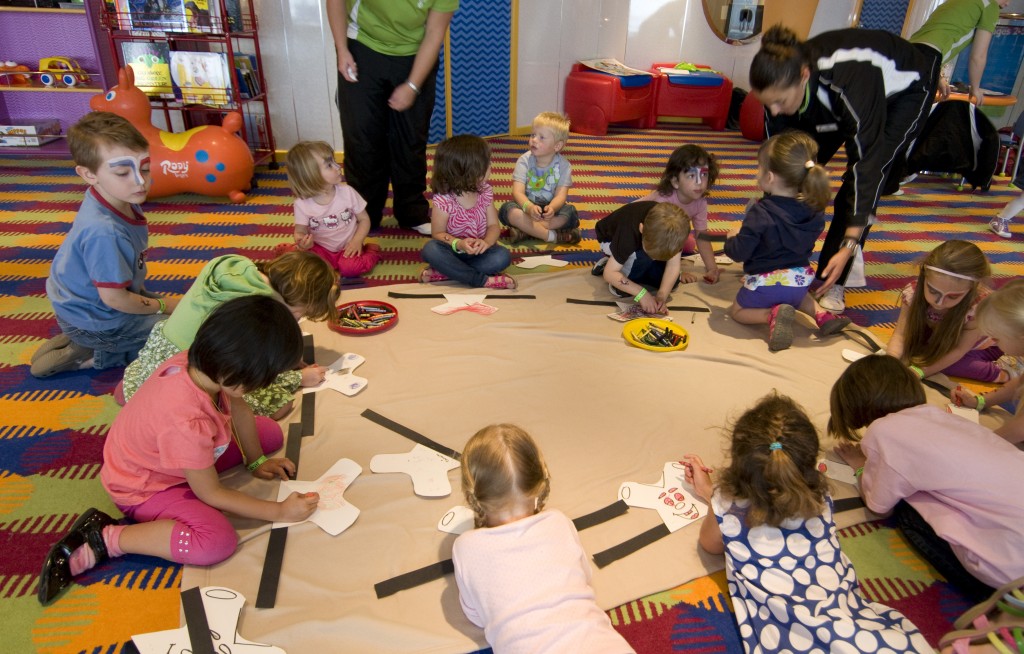 9.Family Friendly Spaces: Over 19,000 square feet of space onboard is dedicated to families and fun. Spaces specially designed for kids, tween, and teens provide organized activities that appeal to each age group. Counselors are trained in child development and experienced in making each moment fun.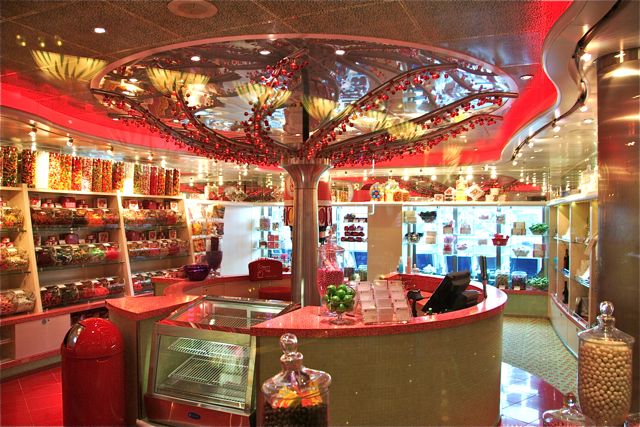 10. Cherry on the Top: Where else can you find a lollipop as big as your head? Cherry on the Top has every imaginable sweet and candy a kid could ever want, serving as a veritable floating Willy Wonka world. Indulge in a little sweet treat for the kids, but just make sure you get some for yourself. After all, you are on vacation too.
~Carnival Magic hosted me and my family aboard their inagural cruise from the Port of Galveston. They did not require that I express a particular viewpoint, and as always, if I say I am having a good time, it's because the trip is awesome!~