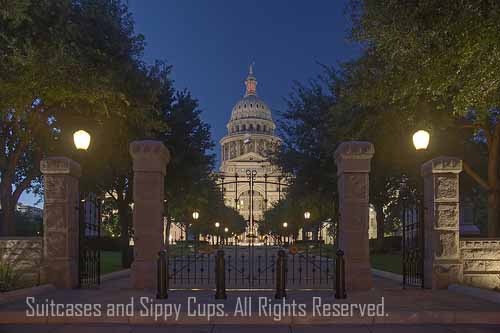 A normal day exploring a new area often ends way before sunset, usually for a combination of factors. In order to preserve peace for all of society (and sanity for mom and dad), this is usually the time that it becomes necessary for the kids to have some downtime and rest. It can also be disorienting and sometimes dangerous to explore an unfamiliar area after dark. Because of this, we have made an oft broken family travel rule to never arrive in a new place after dark.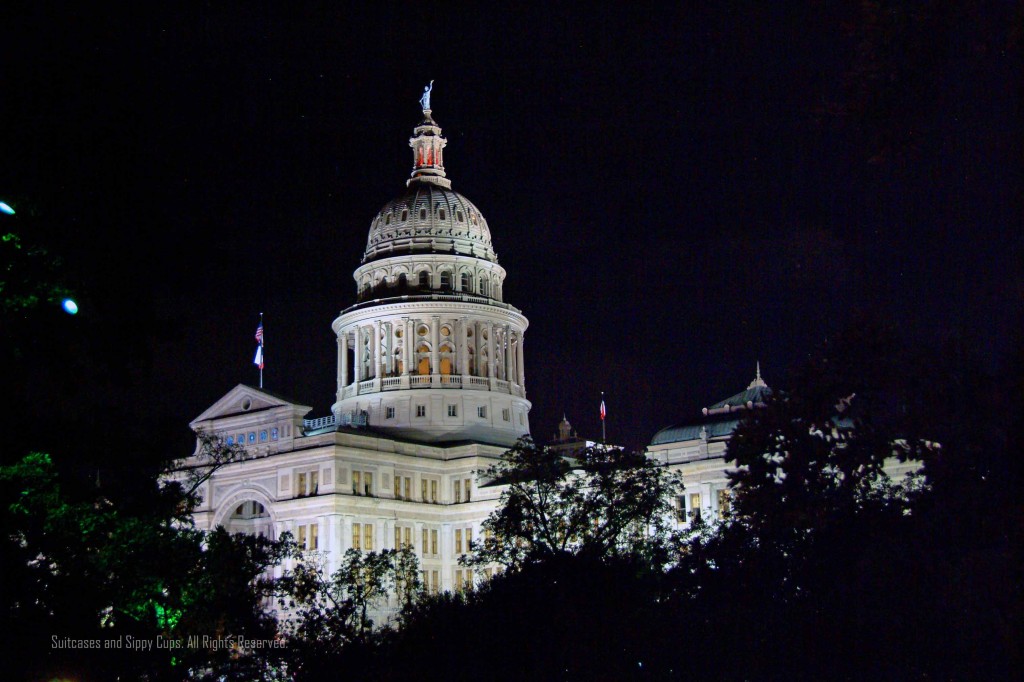 There are times though, especially when traveling in a familiar area, that exploring things in the dark can help you see them in a whole new light. After watching the thrilling flight of millions of bats from the Congress Avenue Bridge, we found ourselves with a wee bit of daylight left and way too much energy to call it a night. With the mingled sunset colors putting on natural light show on the dome of the Texas Capitol building, we were drawn to the end of the street to check out this Austin attraction we have often visited in the day, but never explored at night.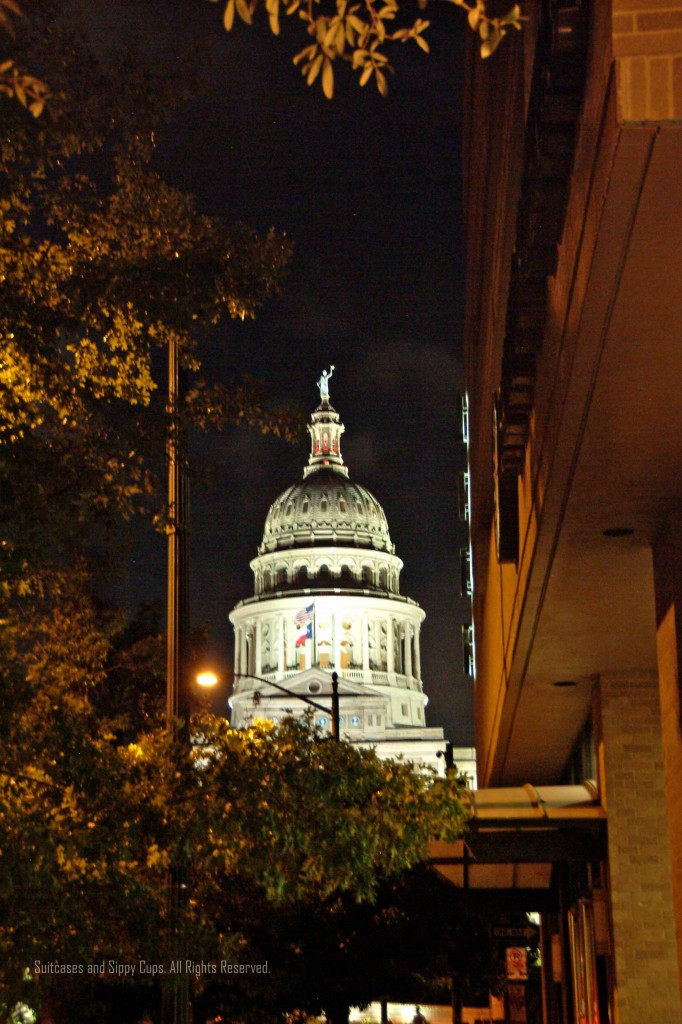 In Austin, practically anything you want to visit is at the top of a hill or the bottom, so we reached the top of the literal Capitol Hill just as dusk was melding into twilight and settling over the Italian renaissance inspired dome. It took only a minute for the Capitol to switch from daytime mode to nighttime, as floodlights, dramatically placed to illuminate the building, switched on and the grounds around it were enveloped in darkness.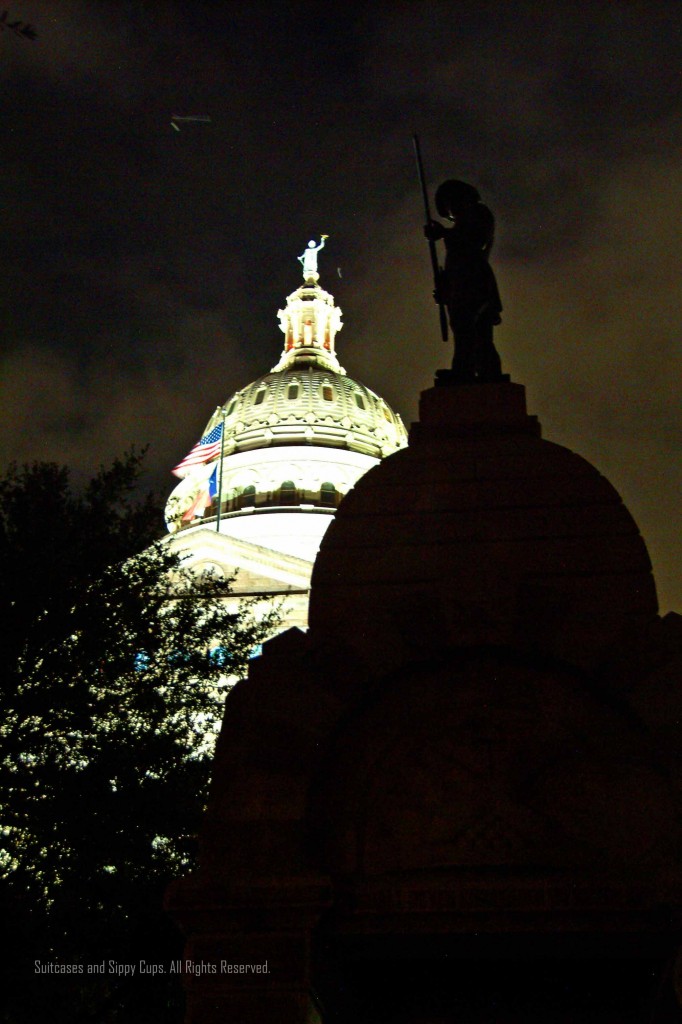 Our eyes adjusted quickly to the lighting changes and we began to explore these now somewhat unfamiliar grounds. The lighting served to direct our attention to statues and corners that would have been easily overlooked in the light. Large marble figures and stalwart battle cannons cast shadows on the sidewalks, distorting and projecting the images until they were larger than life and begged a closer look. Even the great words spoken by great men that had been inscribed for eternity in stone were somehow more profound and worthy of contemplation by lamplight.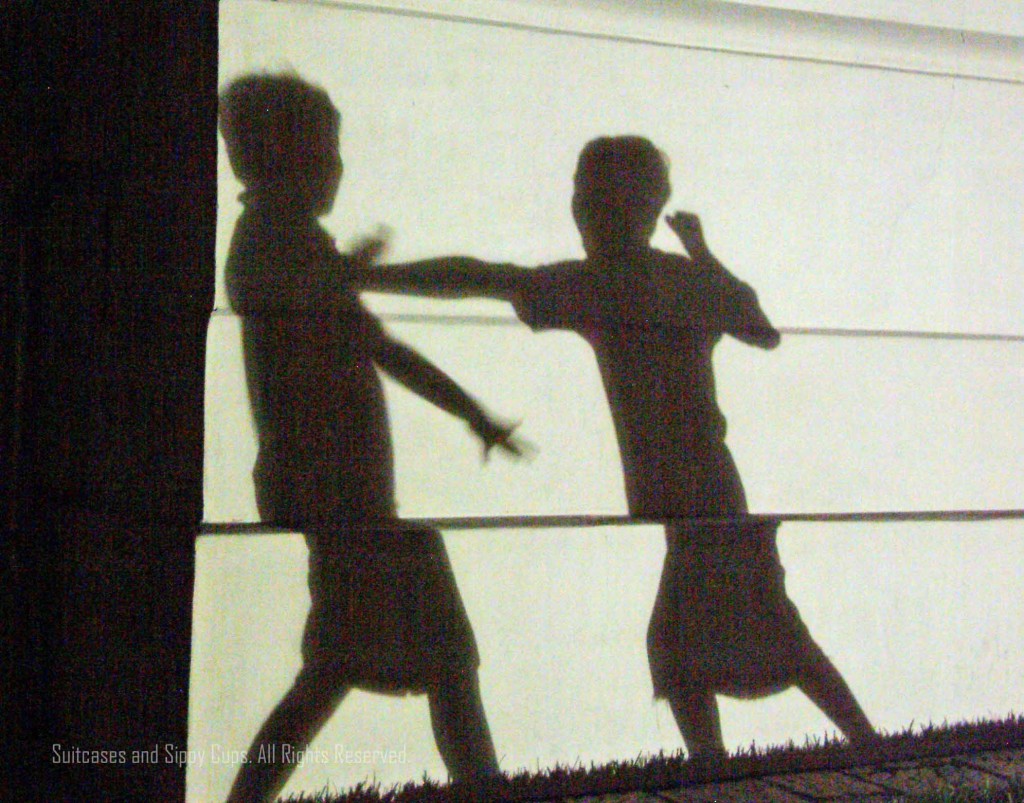 With the lighting focused on the buildings, the dim lights of the sprawling pathways throughout the grounds made a perfect place for a slow "it's getting late and I ate too much for dinner" stroll. Of course, anytime mom and dad start to slow down, it's a perfect opportunity for the kids to find ways of entertaining themselves. The bright lights on the stark marble walls provided the perfect place for a giant scale shadow war, where I promise, despite the vicious look of things, no one was harmed.