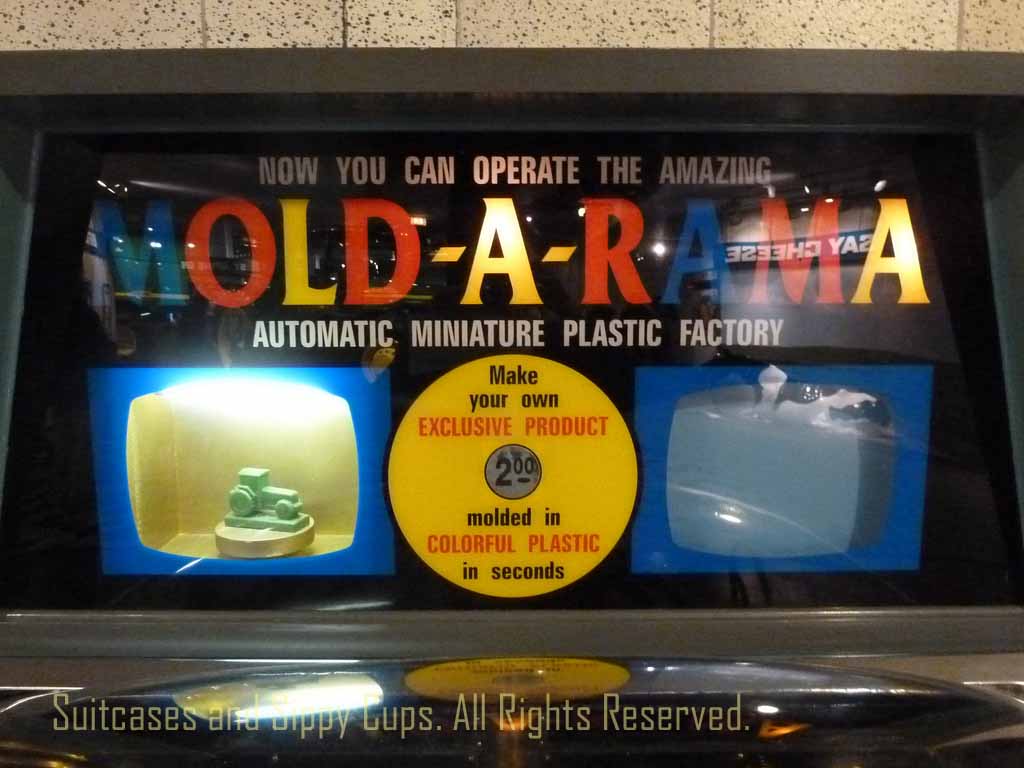 Most travelers have a list of miseries that threaten to take the fun out of the whimsy of world travel. My list is pretty standard: delayed flights, crabby check in clerks, and souvenirs. It's really not that I hate the souvenir industry; it just feels like even though the destination changes, the travel trinkets stay the same. You could say I suffer from Stale Souvenir Syndrome. You can only buy so many little stuffed animals with the attraction name emblazoned on their backside before you start to feel bitter.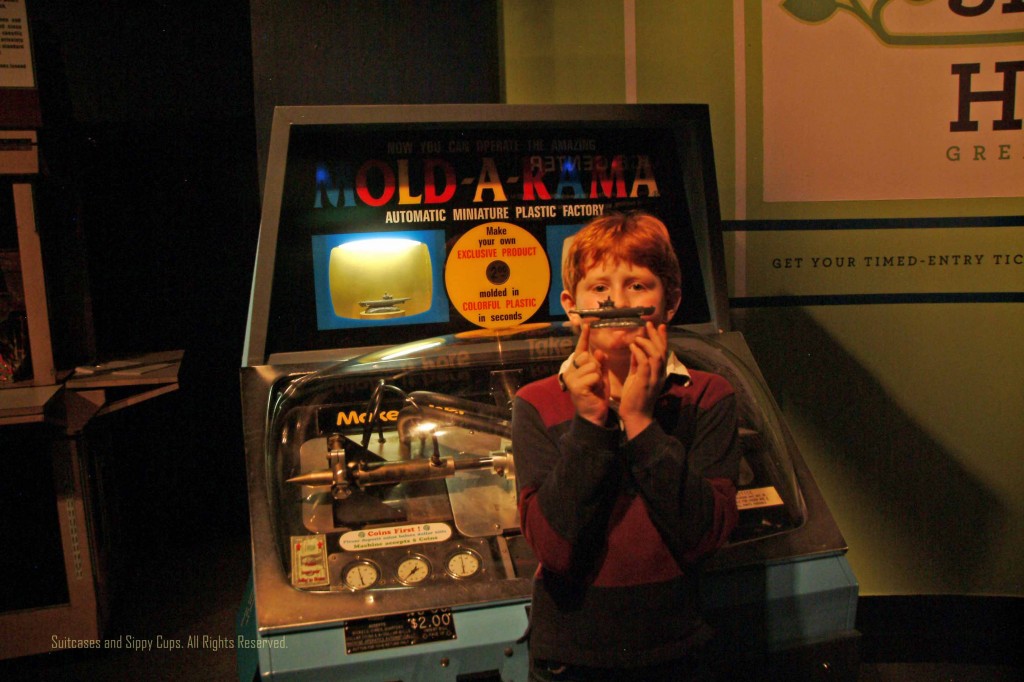 I discovered the cure for my souvenir sickness in a magnificent little machine called the Mold-A-Rama. Let me say up front, that I know that these are not high quality collectibles and they rate pretty high on the kitsch-o-meter. Nevertheless, I love them like I love a cheesy roadside attraction and especially appreciate the breath of fresh melted plastic they bring to the souvenir search.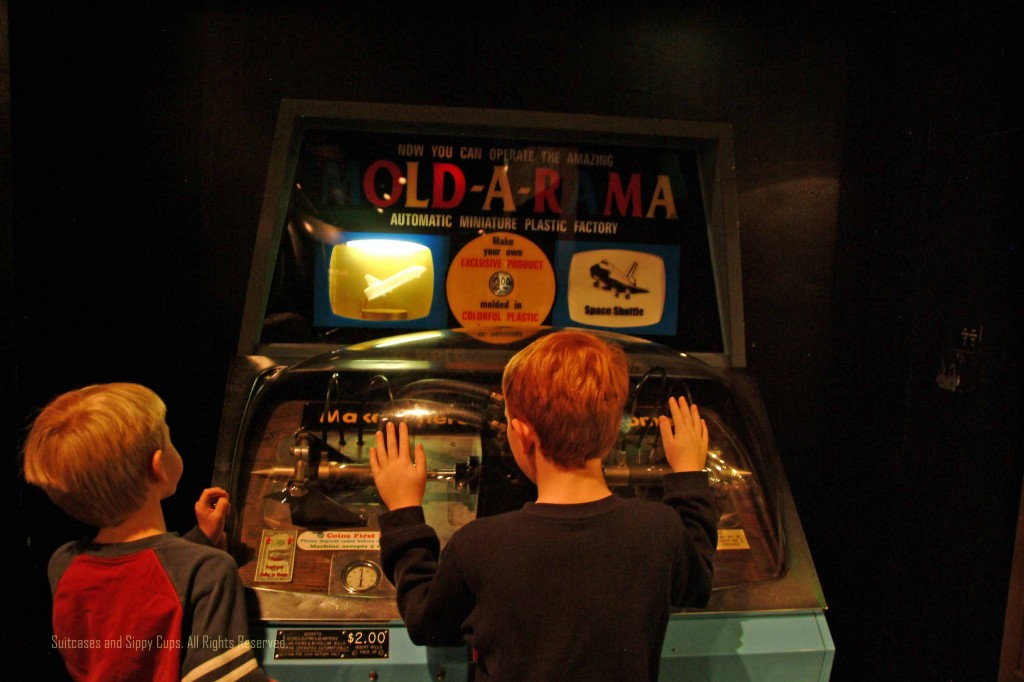 With crisp dollar bills in hand, you stand before the automated wonder with hope and anticipation. The last dollar slips into the slot and the machine springs into action, the gee whizzery whirring through the mechanics as you press your eager fingers and nose to the glass to get the best look. Inside, colorful polyethylene pellets are heated to 225 degrees and then injected into the mold and quickly cooled to create a hollow construction complete with a stamp of the location. With a final pizzazz, a giant spatula scrapes the mold to freedom and it drops with a satisfactory thunk into the dispenser door. Opening the door releases a stream of hot air and the smell of melted crayons. You can't help but feel a Zeus like power as you hold your still warm trinket in your hand, all the while knowing that you were instrumental in the creation and you watched it form before your very eyes.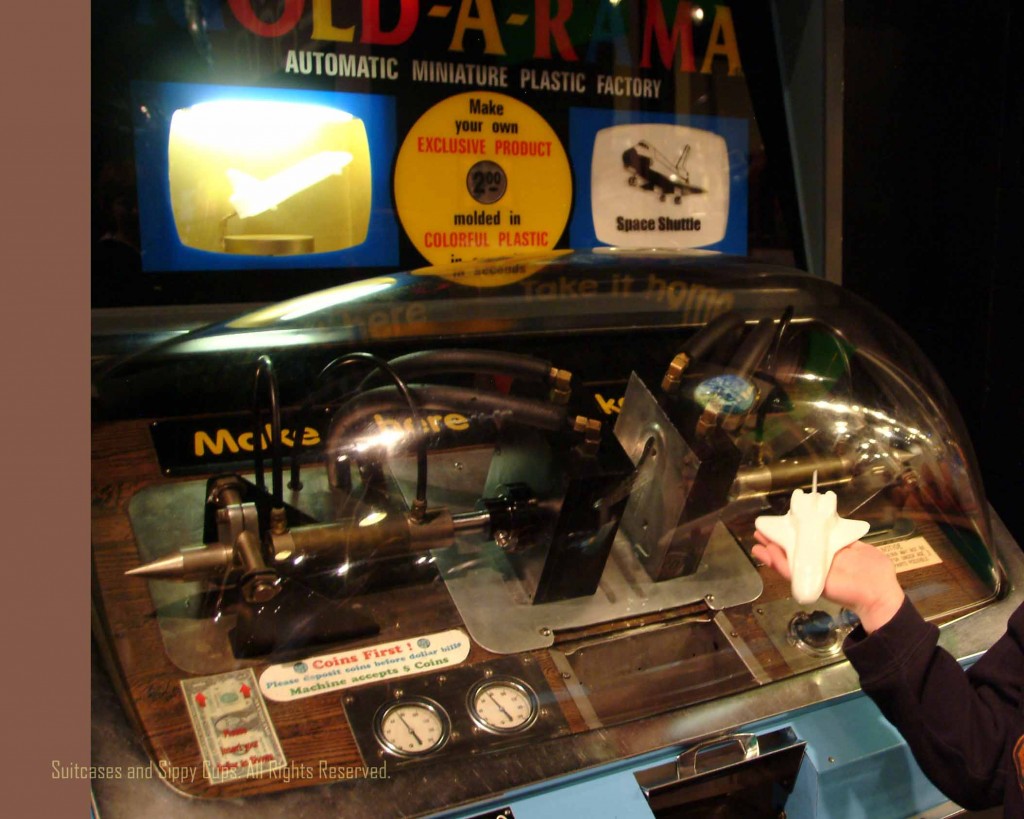 If the purpose of souvenirs is to mark the memories of a traveling experience, then I think all souvenirs should be as memorable as the places from which they were purchased. In my mind there is nothing more satisfying than a multisensory memento that is as much a joy to purchase as it is to own. And to think that you can get all that for a few dollars and some plastic beads.
Know Before You Go:
Mold A Rama machines can be found in Chicago at the Brookfield and Lincoln Park Zoo, The Museum of Science and Industry, the Field Museum, and the Sears Tower.