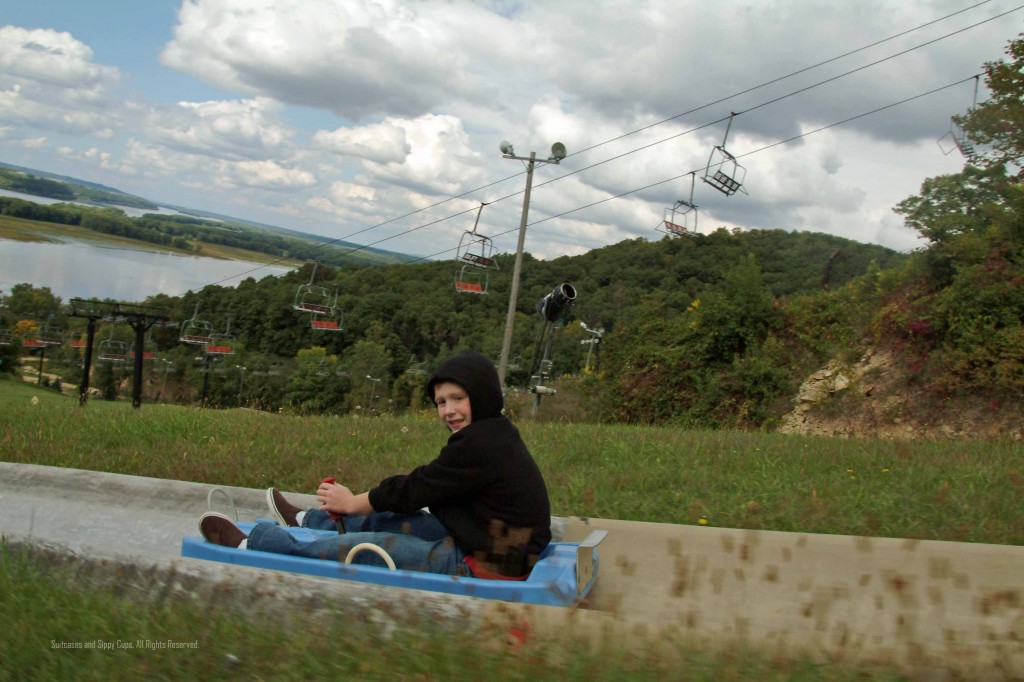 I'm not sure when I first learned about the downhill goodness of the alpine slide, but I filed it away as something we had to try as a family. A great post about Stowe Mountain Lodge from Mara at Mother of All Trips reminded me to be on the lookout for an alpine slide opportunity as we traveled. There are no alpine slides anywhere near our flatland home in Texas, and I was chagrined to learn that we had just missed our chance while in Colorado. With resolve, I vowed to jump at the next chance that presented itself.

Chestnut Mountain Lodge with beautiful views of the Mississippi River
That chance came with a trip to Chestnut Mountain Resort in Galena, Illinois. As a bonus, I had wanted to visit Galena after reading about the historical significance that landed the city on the Time Life 100 Beautiful Places in America. Little boys don't usually seem to be very interested in looking at old buildings, no matter how historical they might be, so the alpine slide seemed like a perfect way to entice them to Galena and let everyone win.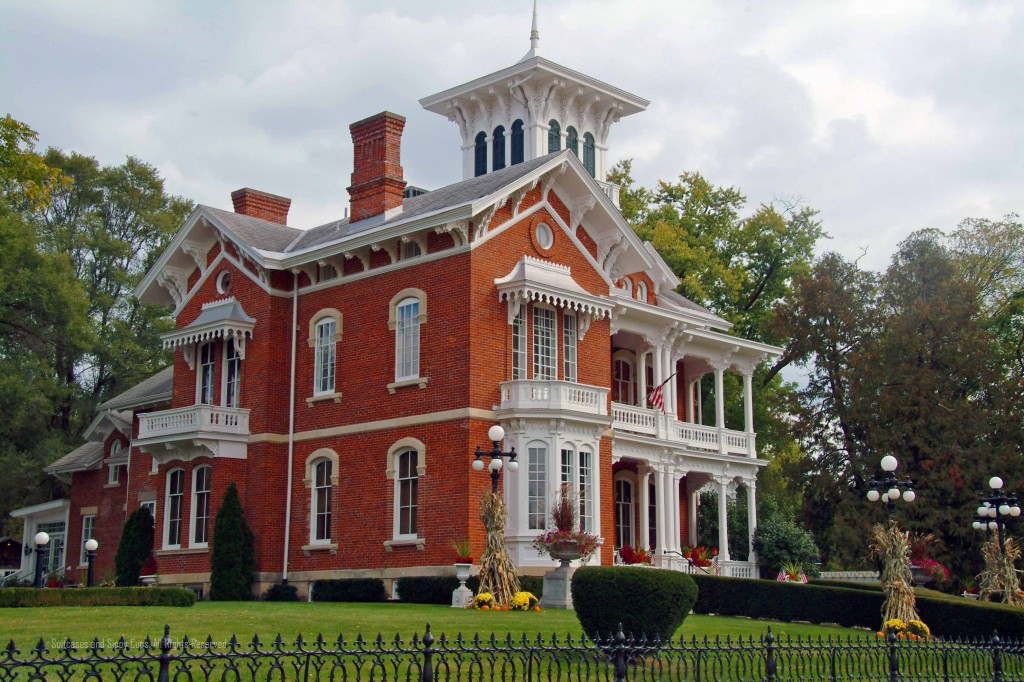 See, who wouldn't want to see something as grand as this?
An alpine slide is similar to a bobsled, except the ride occurs along track made of concrete or fiberglass, rather than ice. These are built along the side of a hill, usually at ski resorts, to try to attract summer visitors. Riders sit on a cart that is controlled by a handbrake that can be pushed forward for maximum speed and jerked back to take the curves safely.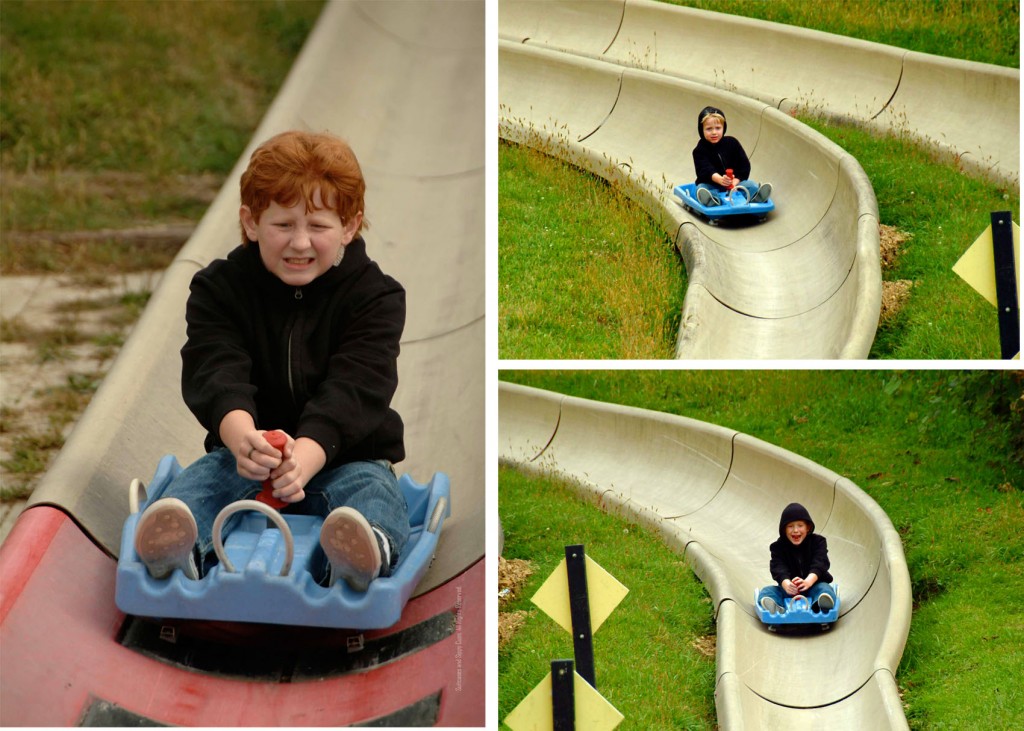 The need for speed
My big boys only wanted know one thing: which way do you have to push the stick to go fast. Dad dutifully raced down the mountain with the pack of speed demons and I brought up the rear with two year old Morgan in my lap. Before our trip, I had called the lodge to learn if there were any restrictions on the slides and I was pleasantly surprised to discover that there were no height or age limitations. With the age span of our kids, it is rare for us to find an activity that all the boys can enjoy, so this was a real treat.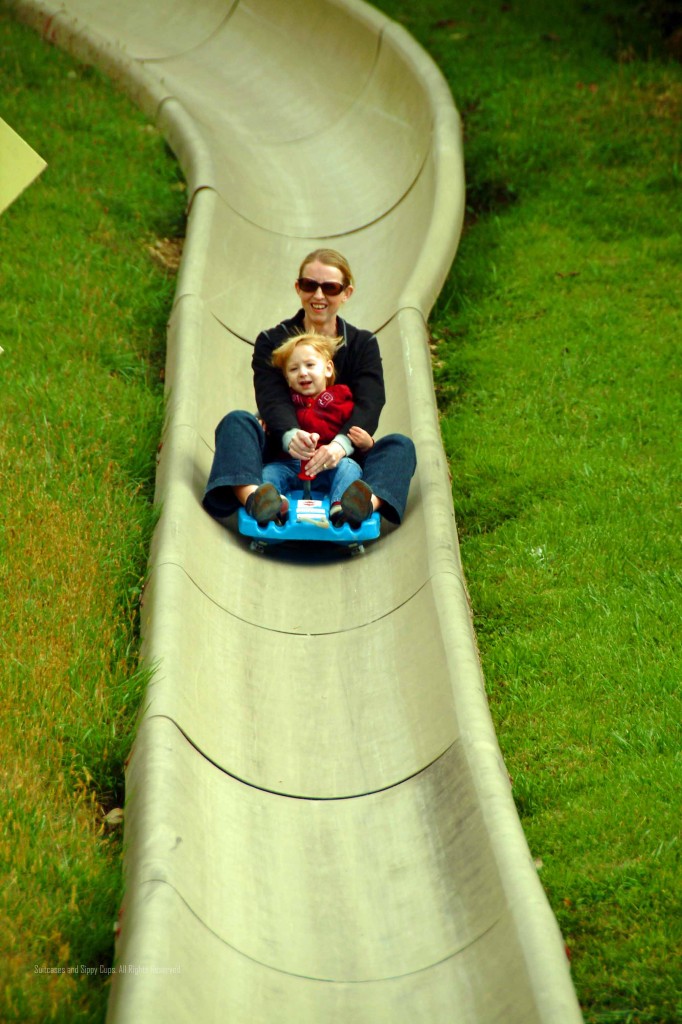 Morgan and I really enjoyed the ride, albeit at a much slower pace and easily glided toward the bottom of the mountain. That is when things went from downhill fun to uphill horror. I am always telling my boys not to climb up higher than they are willing to climb down, but I had never considered that you might not want to go down farther than you are willing to go back up. In my defense, I have never been skiing, so the concept of a ski lift was vague, at best. I hadn't even considered the reality of riding up the ski lift with a wiggly two year old.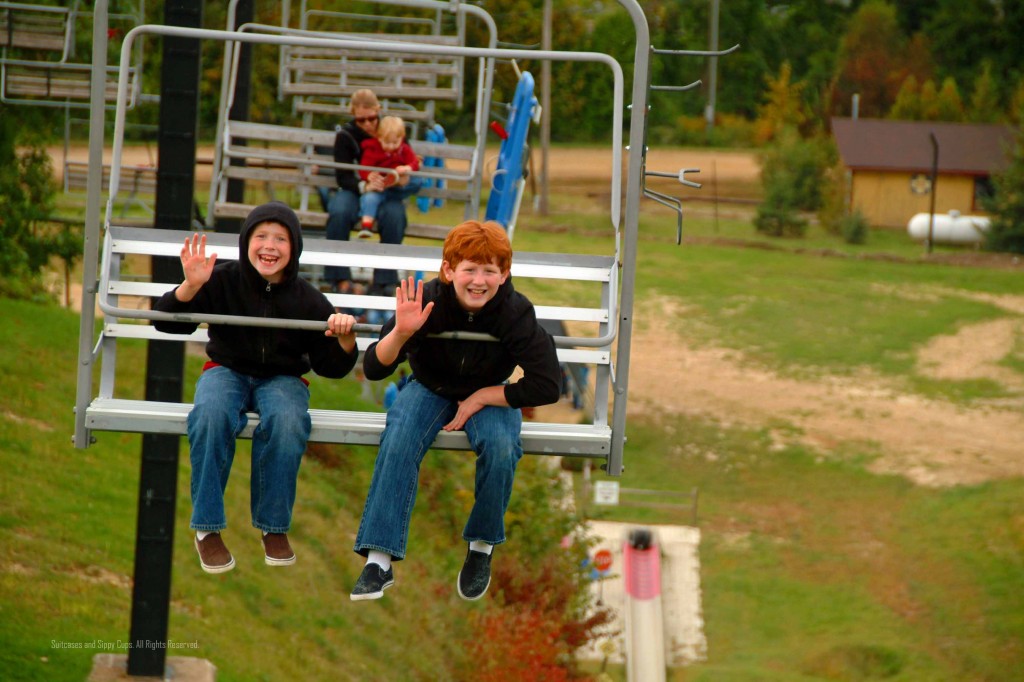 The boys having a great time on their first ski lift (and me in the background having no fun at all)
I spent the entire ride up convinced I was in the seventh layer of hell and assessing the amount of damage that would occur if the wiggler had managed to twist out of my death grip. About half way up the mountain (did you know that ski lifts are the slowest mode of transportation known to mankind?!?!) Morgan, who was calmly and happily enjoying the ride, began to pant as a signal that I was gripping him perhaps too tightly. I loosened my grip to only semi-panic strength and somehow we managed to finish the ride without either of us passing out. Never again!
The moment I started breathing again.
So, the final verdict on our first alpine slide adventure? All four boys give it a resouding best-thing-ever-when-can-we-do-it again-that- was- awesome two thumbs up! Me? The alpine slide was a great experience and would love to do it again. The ski lift? Next time, I'll hike.