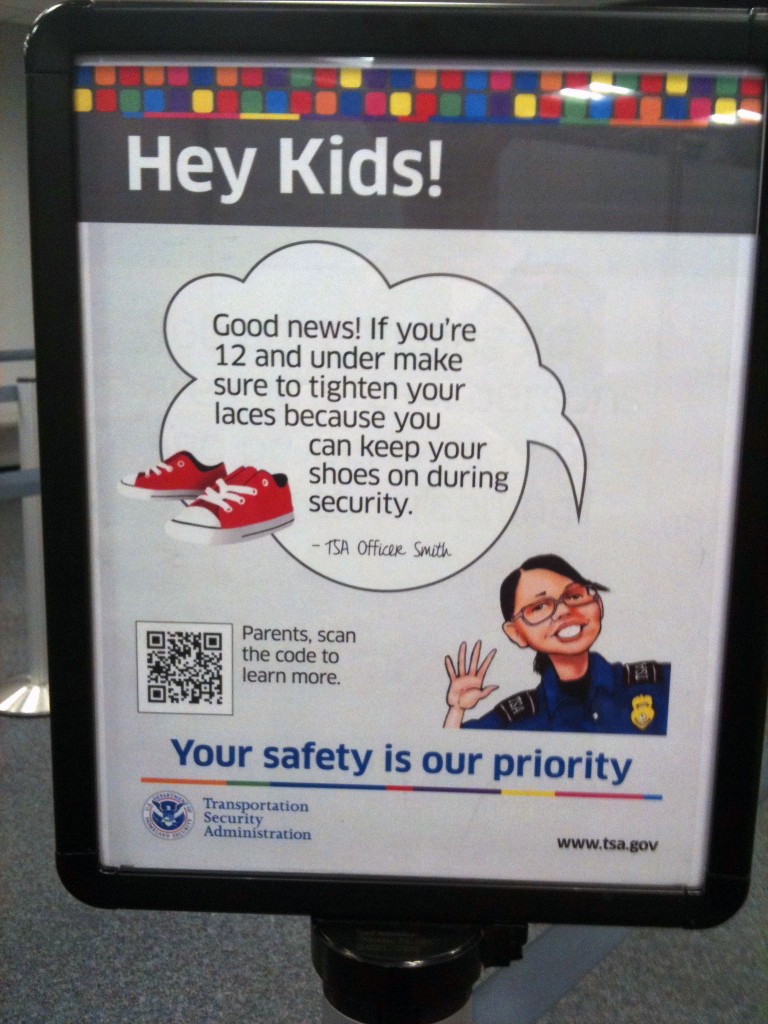 My least favorite aspect of traveling is airport security. Well, unless you consider how much I hate unpacking and the laundry therein, or the fact that I always seem to forget to pack something important (like underwear) and have to make a middle of the night run to Walmart. For simplicity, we'll just stick with how much I detest security. Really, there is nothing redeemable about the process. You are trapped at the mercy of not only government regulations, but TSA personnel whose job requirements involve a propensity for complete lack of compassion and prison reform-esque people skills. I realize I am treading on gross overgeneralization thin ice with this blanket slam against security personnel, but the stereotype exists for a reason (and the story is just not as good if I cast all the agents in the role of the hero.)
But, when we arrived in our security line for our most recent trip, I discovered a sign that thrilled me down to my very toes. In a victory that turns out to be quite literally for the little guy, children under 12 are no longer required to remove their shoes to pass through security. Cue the angelic music as one very happy mama glides down the gray security carpet. Not needing to supervise the removal, retrieval and re-donning of little shoes times four was enough to send me into security bliss. I am pleased that the powers that be have finally seen the ridiculousness improbability of explosives hiding in toddler's crocs and taken steps to make security more family friendly. Another sign we encountered explained the upcoming use of liquid scanners that will make it possible to travel with full sized shampoo and water bottles again. After years of pouring out the contents of sippy cups in security trash cans only to buy a $3 bottle of juice immediately on the other side, I am once again thrilled.
So not only is my traveling a little happier right now, I am also dreaming of more advances in the future that will make security both simpler and safer.