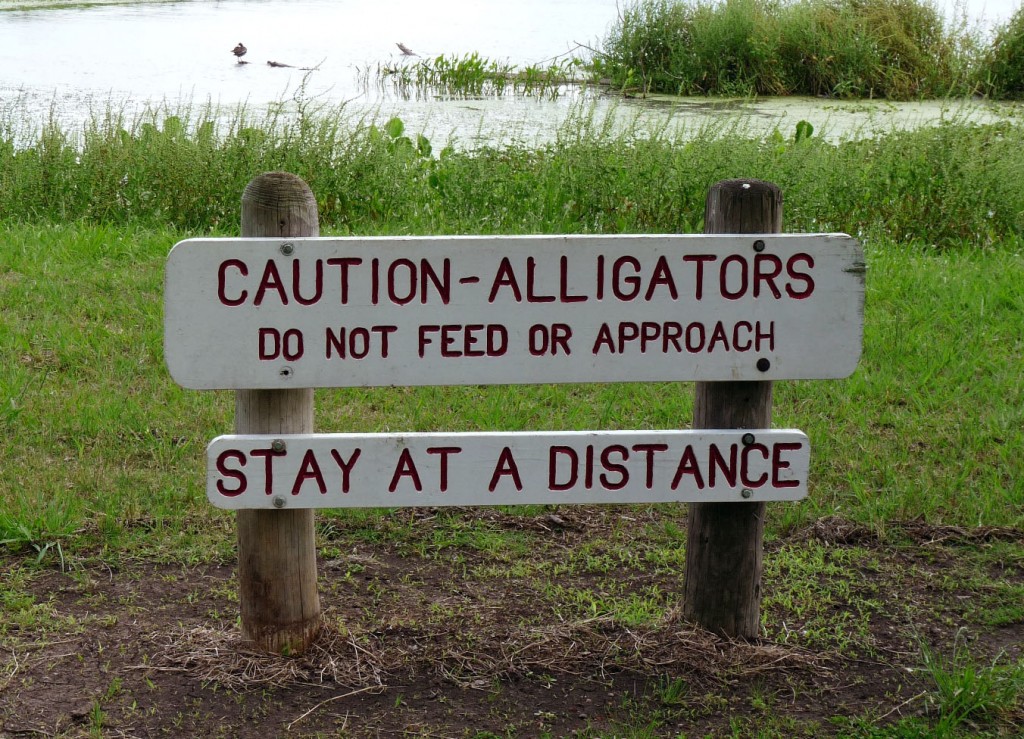 Every bit of Brazos Bend State Park had a little bit of the unexpected.  It is unexpected to find such a sprawling country hideaway so near the urban jungle of Houston.  The sheer number of activities at the park is unexpected.  And of course, any time you encounter a sign that warns of alligators, that is somewhat unnerving.  Let me quickly put your mind at ease.  Not only was the park safe, the alligators along with many other fantastic features are just part of what makes Brazos Bend State Park our favorite Texas state park.
Our arrival at Brazos Bend State Park was the most unexpected part of our trip. I've mentioned before, I'm not very good at reading maps.  I usually make up for this personal deficit by just not reading maps.   I realize this is very Scarlet O'Hara of me, but it's worked so far.   Normally, this is not a huge issue because my dear husband has quite a good sense of direction, so he keeps us on the proverbial path.   It's clearly not a foolproof plan, though, as I am the one who actually does all the planning.
My planning session for our recent trip to Houston looked something like this: I googled camping and Houston and booked the first site on the list.  That site happened to be Brazos Bend State Park, located about 30 miles south of Houston.   Not exactly near our planned destination, but a serendipitous stop, nonetheless.
The Basics
The bathrooms were clean (and had a shower curtain), the camping sites were large and flat, and there was plenty of space and privacy between sites.    We were easily able to maneuver through the campsite with our large trailer and the roads provided plenty of space for parking.  Most delightfully, the office staff allows campers to choose a spot after checking in, so we were able to drive around and pick the site that best suited us.  We chose a spot with a huge fallen log that was begging for little boys to clamber and climb.  However, the sites are so varied that we could have chosen from sites with large open fields nearby or more wooded areas with ample privacy.   Whatever your perfect campsite needs, you will find it here.
Brazos Bend is more than just great camping, though.  Despite the unexpected distance, Brazos Bend was a convenient place to stay for adjacent trip to Houston, but it also offers so much more that it would be a great place to visit all on its own.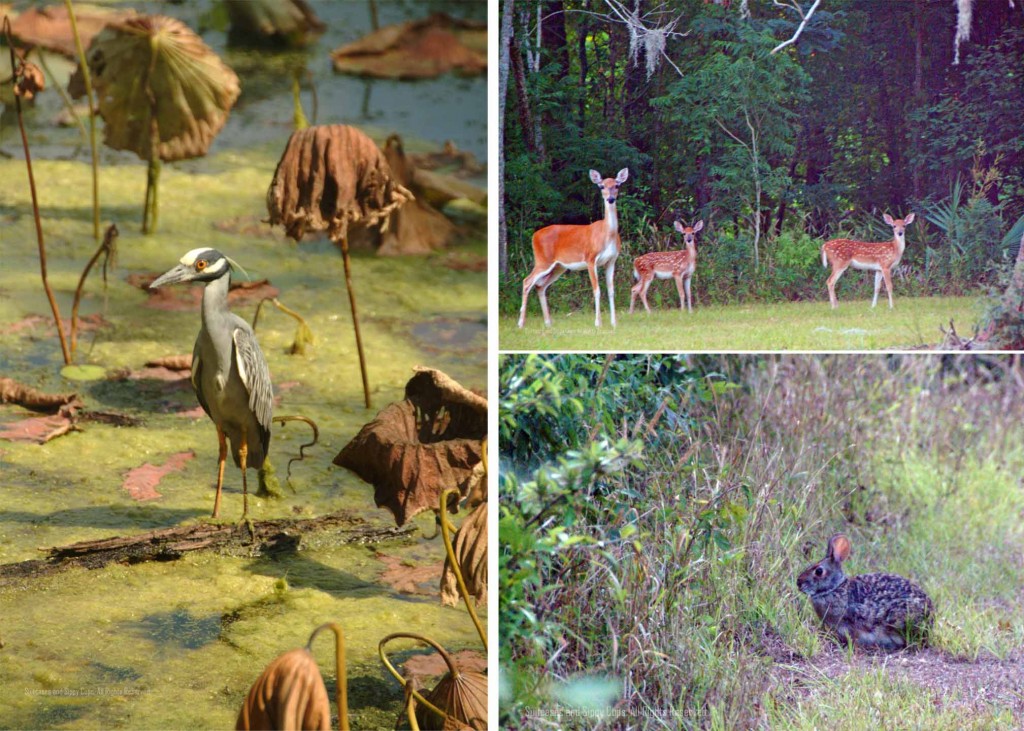 Wildlife
The wildlife in the park was unlike any other park we had ever visited.  Normally, campsites offer the requisite hot dog stealing raccoons and bat sized mosquitoes, but Brazos Bend has actual interesting animals.  Deer, rabbits, and a complete collection of water birds were just tame enough to allow us to observe their habitats close up and so prolific that we soon were not surprised to notice more visitors in camp.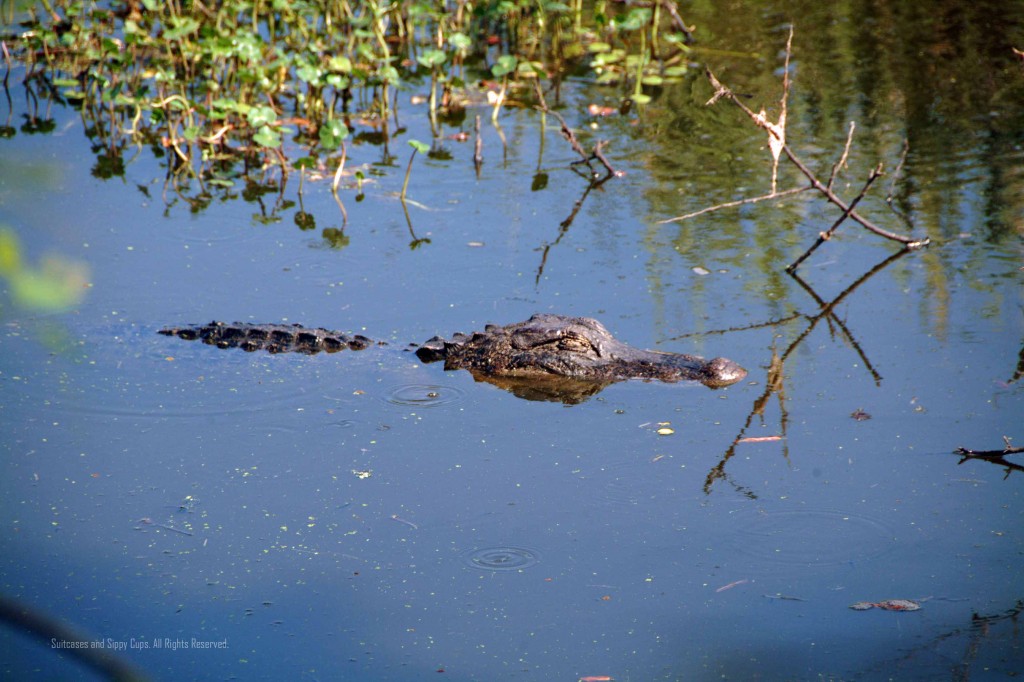 Of course, the park mascot alligators are lurking in the waters for a horrifying friendly staring contest.   Rest assured the campsites are nowhere near the water, so we did not see any alligators unless we were looking for them.  Early in the morning is the best time to walk the loop around the marsh and pick out the many, many scaly reptiles skulking through the murky water.  If walking along the water's edge feels a little too much like walking on the wild side, you can always climb the observation tower and count the bumpy heads in the water from afar.

If you prefer your wildlife up close and personal, the Nature Center is open every day.  Inside you can pet baby alligators and (safely) check out all the venomous varieties of snakes in Texas.  Hands on exhibits invite kids and adults alike to explore, while enthusiastic guides are on hand to answer any questions.

Other Activities
Hiking, biking, and equestrian trails are plentiful throughout the 5000 acre park.  The flora of the park is diverse with huge 500 year old trees dripping with moss taking center stage. Lilypads throughout the park reinforce the idea that everything is bigger in Texas and are a great photography subject.  Just remember, unlike most other campsites, you cannot swim in the waters of Brazos Bend State Park.  The water is reserved for the alligators.  You understand, I'm sure.

George Observatory
If you have had enough of the flora and fauna, turn your eyes to the stars.  The George Observatory, a satellite of the Houston Museum of Natural Science, is located within the park boundaries.   Saturday nights the three large telescopes are available for public viewing, as well as many other telescopes manned by volunteers.  Along with your admission to the observatory, you can browse the meteor collection and view a movie in the inflatable planetarium.   A truly out of this world experience.
Brazos Bend has been nicknamed the jewel of the Texas state park system and with one visit it is not hard to see why.   There is so much to do and see while relaxing in pristine solitude.  Be sure to say hi to the alligators, just do it from a distance.