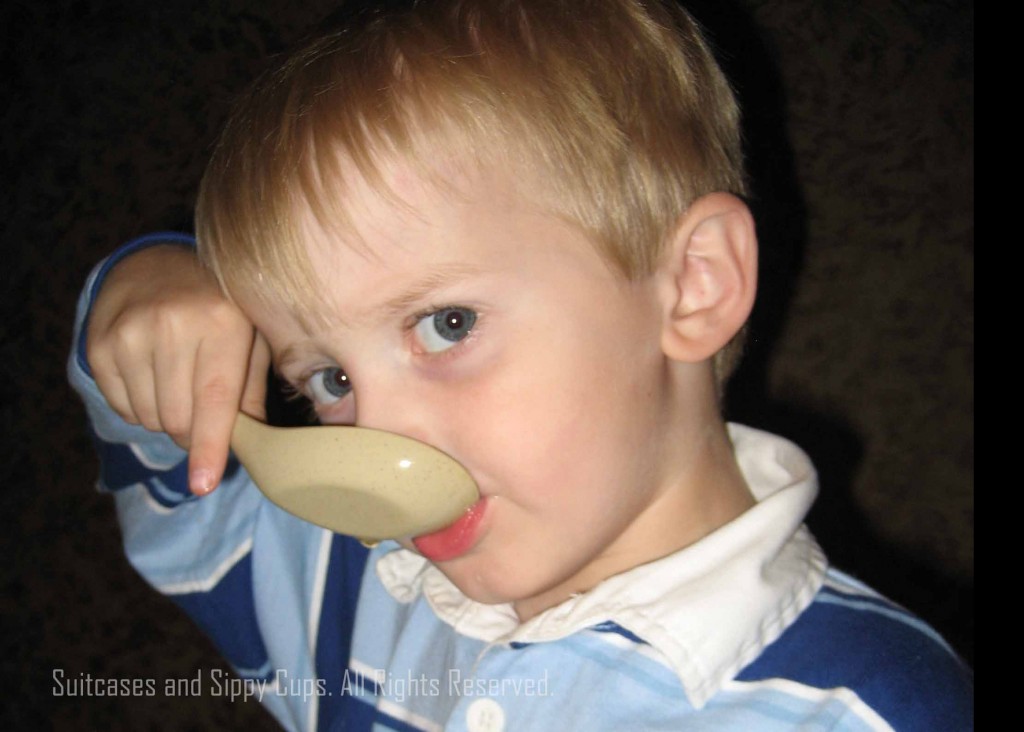 Trying and loving miso soup
1. Encourage adventurous eating.  If you are a mom with a limited palette (guilty) this will take some concentrated effort, but there are fun ways that you can do this as a family.  Host a movie night with an ethnic theme and serve new recipes along with the movie.  Try out a cultural diverse restaurant when dining out as a family.  To encourage picky eaters to try new things pair familiar foods, like noodles, with new flavors, like capers and salmon.
2. Develop a daily routine. Rather than sticking to a strict schedule that is governed by the clock, stick to a routine where one thing predictably happens after another.   Traveling means that bedtime and dinner might happen at a different hour, but the routine will help kids to cope with the changes.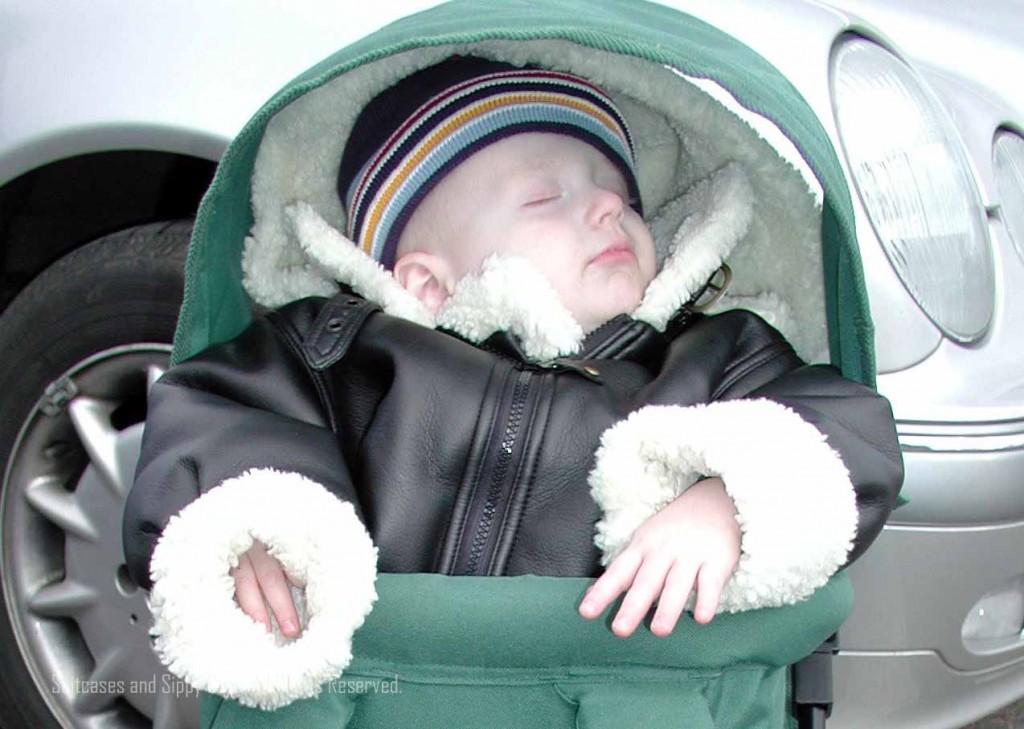 Sleeping at the train station
3. Teach kids to sleep anywhere. Babies will sleep in the most unlikely of places.   Check your baby album and I bet you will find a picture of your little one passed out in the high chair or the grocery cart.  Encouraging this habit to continue past babyhood is a big bonus when you are away from home.  Practice this skill at home by setting up the playpen in another room before traveling or putting kids to bed while you are visiting at a friend's house.
4. Encourage flexibility. Flexibility is a vague concept, but experts tout this skill as one of the biggest predictors for success in adulthood.   The many variables in travel make flexibility a must for a positive experience.   The biggest lesson in flexibility will come from watching mom and dad when life through a curve ball.  Muster your resolve and turn a flat tire into an adventure.   Use the rainy day to launch a great indoor project.   Teach kids that great things can happen even when plans have to change. (It'll be good for you too.)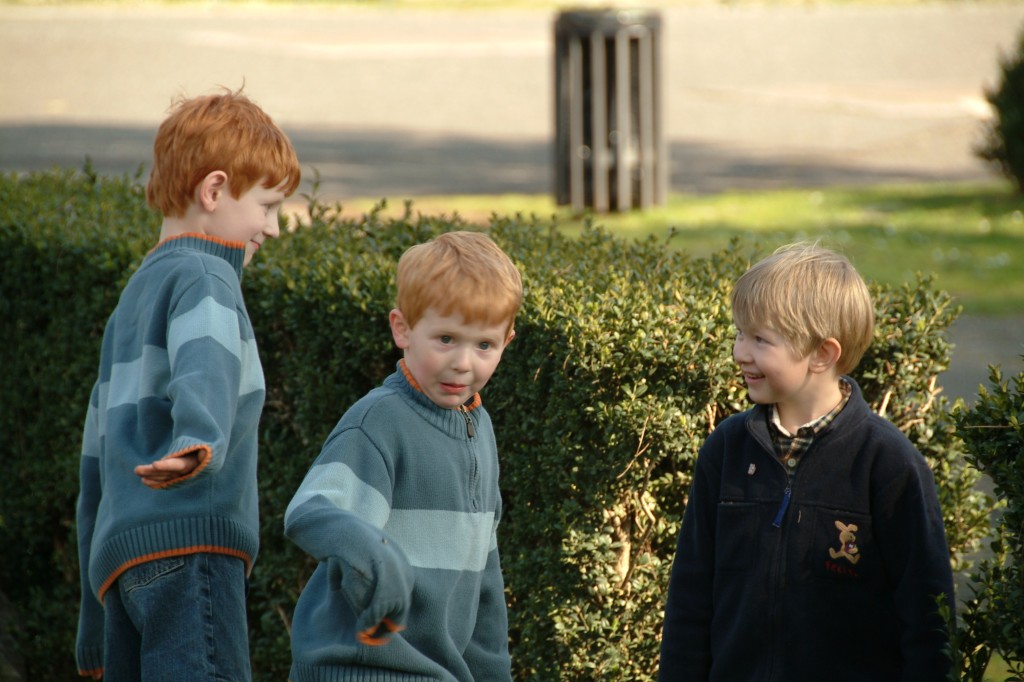 Two Americans and a German in Italy communicating in the language of play.

5. Show kids how to talk to strangers. Not the scary kind of strangers that we want to warn them about, but give lessons in how to talk to the waiter, the grocery clerk, or the new kid on the playground.  Traveling means interacting with tons of new people and it will be easier for the kids aren't afraid of these encounters.   Small talk and introductions are not skills that kids are born with though.   Practice with role play so kids are ready for these encounters in the real world.
6. Provide discipline. When I was a teacher, field trips were eye opening.  If I had a good handle on the discipline in my classroom, field trips were enjoyable.  If I had been lax in my classroom handling, it was glaringly obvious when my class was away from their routine.  Take some time at home to develop consistent discipline that will benefit you when you are on the go.  Check out these tips I learned when I was a first grade teacher.  (Twenty five six year olds are an unforgiving lot.  Being on your toes is a must.)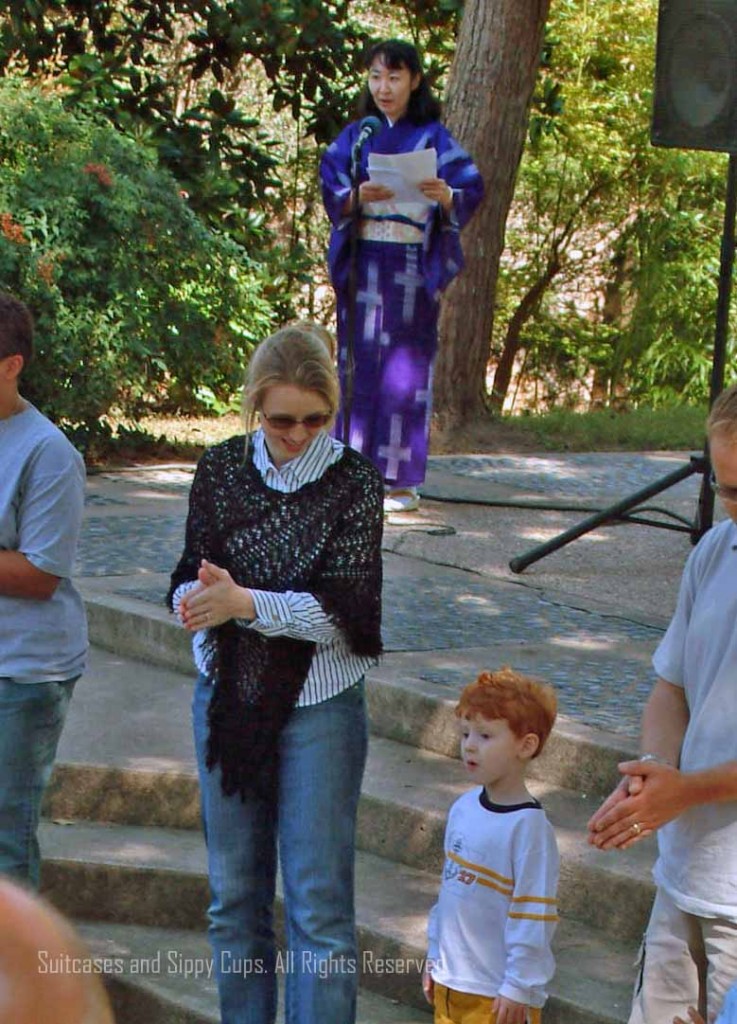 Learning a Japanese dance at a local festival

7. Teach cultural diversity.   Read about other countries.  Make friends of different ethnicities.  Take advantage of local festivals that celebrate cultural heritages.  Making kids aware of the rainbow of customs and cultures in the world will help them to appreciate those that they encounter.   I remind my kids that different is just different, it's not weird.
8. Teach the skills for successful traveling.  There is a whole set of skills that make traveling so much easier.  Map reading and navigation are two biggies.  As soon as kids are old enough help them start to learn to do this on their own.  Kids also need to know how to find their way around hotels and where to go to ask for help.  Of course, you will always be there to guide them, but the confidence of knowing how to do it on their own will be priceless.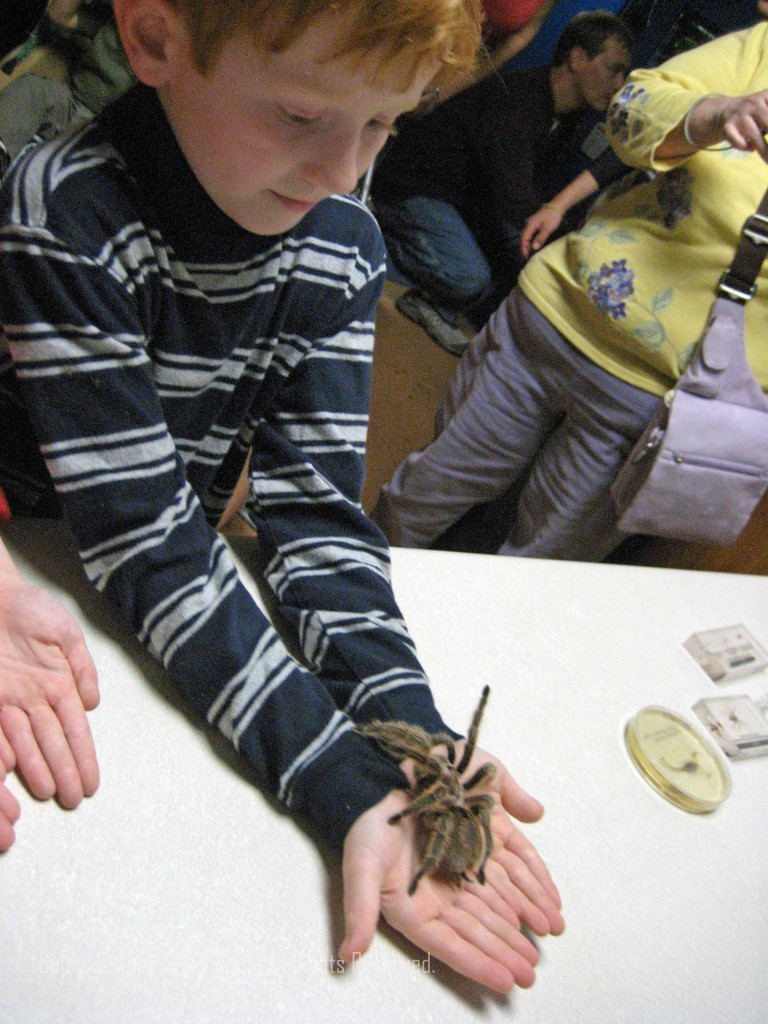 Yep, it's a tarantula
9. Take kids out of their comfort zone.  Going to new places and doing new things is sometimes uncomfortable.    Before you travel, give kids opportunities to work through these scary feelings in a familiar environment.  Even if it's just encouraging a shy child to place their own fast food order or hold a giant spider, working through those feelings and succeeding will give them the confidence to try other new things.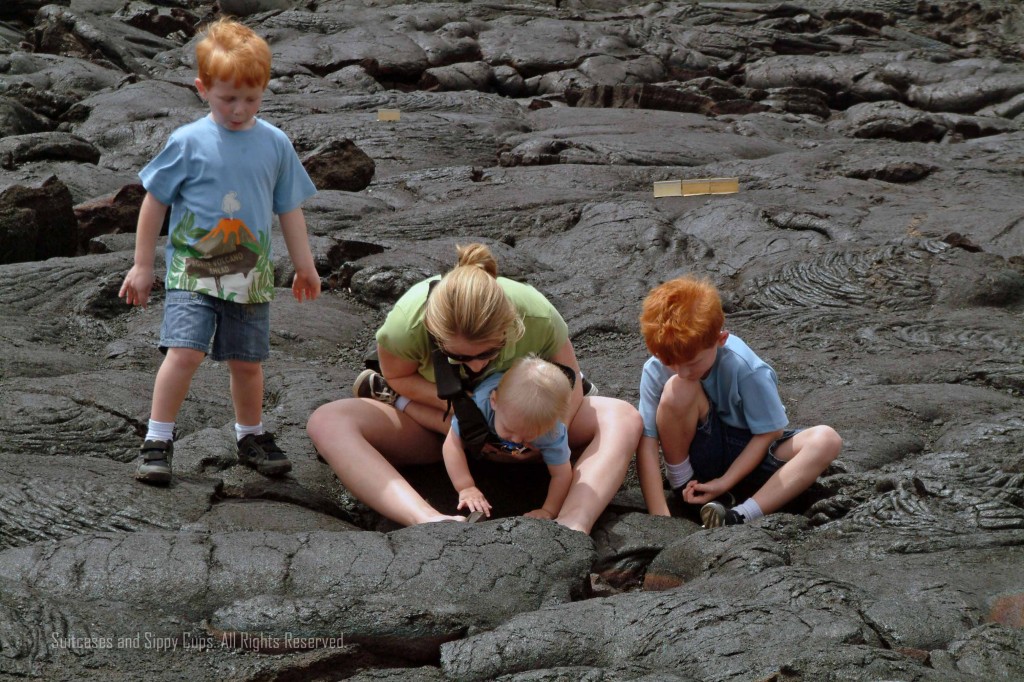 The ranger at Mount Kilauea took one look at us and said there was no way we would make the two mile walk.  Neener, neener Mr. Ranger
10. Set high expectations.  There is always going to be someone who warns you that traveling with children can't be done.  It can be done.  People have done it and are doing with children of every age  every day.   I've heard it all.  You can't take a road trip with a baby.  Yes, you can.  Kids with special needs can't fly on planes.  Pack of lies.  It's not possible to take three kids under five overseas.  Hogwash.  Set the bar high and watch your kids amaze you at what they can do.
This post is a part of Top Ten Tuesday at Oh Amanda