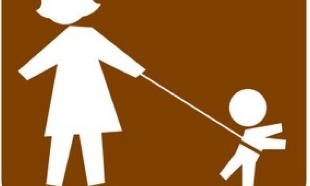 Once again, I find myself eating another parenting "I will never" statement.    Until now, my official stance on kiddie leashes was fairly firm: leashes are for pets not people and parents need to teach proper behavior.
Truthfully, my first three kids made this stance fairly easy.  My oldest has always worshiped at the altar of rules and boundaries.  From the time he could walk, I could simply show him where I wanted him to stop and he would stop.  No running away giggling, no wandering off aimlessly.   At playdates, other moms would marvel at this phenomenon as they ran to catch their little ones who were toddling towards the street.   Somewhat smugly, I would shrug my shoulders and announce that I had just taught him to listen to my instructions and because of my excellent parenting skills, he obeyed.  Sure.  The karma of first time mommy smugness has repaid me for those comments in exercises in humility again and again, I assure you.
I honestly can't remember why I didn't consider the idea of a kiddie leash for my next two.  Perhaps, I was still young and chipper enough then to doggedly stick to my ideals.  Or, it is possible that I never left the house because I was certain that with three kids under five I was bound to lose.  I do think I was somewhat of a Nazi with regards to the stroller, but that whole period of time is a relentless blur.
So, here I am with baby number four and I am considering the possibility of using a kiddie leash for our upcoming vacation.  I'm not usually one to be wishy-washy with decisions, but I keep playing the pros and cons back and forth in my mind. The argument with myself sounds something like this:
It's Vacation. It's a good time to relax your standards and let loose a little.  Get a leash, it will be easier for everyone.
Wait a minute!  Parenting never takes a vacation.  Getting a leash will only allow you to be lazy.   You need to teach the child to stay with his parents.
But, is it developmental appropriate to expect a two year old to be able to control his impulses? Two year olds just aren't wired that way and the leash will be safer.  Think of it as a learning tool between the stroller and walking alone.
Developmentally appropriate?  If he can't follow the rules,  then he can just stay in the stroller. Walking with the rest of the family is a privilege not a right.
Well, he should have the right to walk with the rest of the family.  His brothers are doing it and he wants to be like them.  The leash will give him the dignity of walking while still giving him some boundaries and safety.
You're worried about dignity?  What's dignified about a kid walking around on a leash like a dog?
And while we're on the subject, the kid already thinks he's a dog.  Oh sure, everyone thinks it's funny now when he takes a drink out of the dog bowl.   Add a leash and your just asking for a psychiatrist bill.
It's not like I'm going to be handing out treats and saying 'heel.'  I just want to give him some freedom that will work for both of us.
Well, what's freedom worth to you?  People are going to stare and you are going to be the crazy mom who can't control her child and has to use a leash.  Imagine the judgment!
Really, you need to focus on what works for this child, for this family, in this moment.   Pride in parenting leads to trouble.  If the leash works for everyone, use it.  If it doesn't work, leave it at home.
Simple, right?  If only it was.  It's hard to give up one of your parenting 'I nevers,' even if it seems like the right thing to do.   All my reasons not to use a kiddie leash still ring true, and I would be inclined to stick with that except I really think the leash would be great for this child.  I think it will be better for him, not just easier for me.  I've still got a few days to decide.  What are your thoughts and experiences?
This post is a part of Top Ten Tuesday at Oh Amanda